New blink-182 album captures 'California' spirit
Packed with amazing guitar riffs, excellent lyrics and infectious rhythms, California-based punk rock band blink-182's new album, "California," is a wonderful addition to any music library.
"California" is blink-182's first studio album with "Alkaline Trio" lead singer Matt Skiba. Skiba took the place of former lead singer Tom Delonge after Delonge left blink-182 for creative differences.
The album was a commercial success, selling 186,000 units retail, 172,000 of which were traditional. The standard edition retails at $12.90 on blink-182's website, with the Deluxe 2 disc set retailing at $16.90. The album cover is visually appealing, featuring album artwork by British Street Artist "D*Face," and perfectly suits the content and feeling of the album.
The first track, "Cynical," opens the album with a soft start but ends with a bang, setting the tone for the rest of the album after it, and is one of my personal favorites off of California. The lead single, "Bored to Death," is a cryptic but catchy pop-rock tune that evokes blink-182's self-titled 2003 album and brings a new style to the group's repertoire.
The album continues with catchy fast-paced rock tunes, like "She's Out of Her Mind" and "No Future," until it hits some of the album's slower, more emotional songs. "Home Is Such A Lonely Place" deals with the concept of growing out of a relationship and is the first real slow-paced song on the record. "California" is a bittersweet love song dedicated to lead singer and bassist Mark Hoppus's home state of California. The song offers an almost cynical view of life in California as Hoppus dives into some of the darker undertones of life in Los Angeles and metropolitan California.
On July 1st, blink-182 released a deluxe edition of the album complete with 11 new songs and an acoustic cover of "Bored to Death." The new songs include the two fast-paced, high energy singles "Wildfire" and "Parking Lot." The new songs bring new energy and fun to an already stellar album.
"California" is an amazing album well worth its $13 price tag and an album I would recommend to anyone. So sit back, relax and take a trip to the Golden State with blink-182.
Leave a Comment
About the Contributor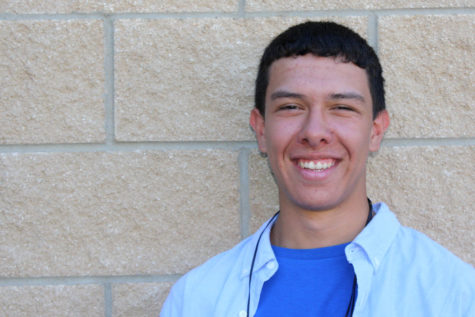 John Flatt, Video Editor
Hey there, I'm John Flatt, the video editor for The Eagle's Tale. I play the alto saxophone in the band, I'm an Eagle Scout, and I'm looking forward to spending this year with all my friends here on the newspaper staff.  I hope to entertain and...