'Concrete and Gold' breaks the mold
With the "Foo Fighters" usual impactful vocals, hard driving rhythms and memorable melodies, Seattle-based rock band new album, "Concrete and Gold," is a jaw-dropping success.
"Concrete and Gold" is the "Foo Fighters" tenth studio album and was released Sept. 15, 2017. The album opened to generally positive reviews. "Concrete and Gold" is available on iTunes for $9.99 and on Google Play for $9.49.
The vocals and instrumentation are impeccable and hearken back to the band's progressive rock roots and their earlier albums, such as 2007's "Echoes, Silence, Patience & Grace."
The first minute of "Concrete" starts off slowly, but picks up the pace faster than you can say "guitar riff." The album continues in its fast-paced, hard rock glory until it takes a brief reprise during "The Sky Is A Neighborhood." While the track slows down the album, it by no means lowers the energy and helps set the tone for the following track, "La Dee Da," another slower song with a very energetic chorus.
"
The vocals and instrumentation are impeccable and hearken back to the "Foo Fighters" progressive rock roots."
— John Flatt, 11
After the almost frantic energy in the first half of the album, frontman and former Nirvana drummer Dave Grohl continues to slow things down with the more melodic "Dirty Water." But the energy begins to pick up halfway through the track and continues through the next track, "Arrows."
The album switches gears into acoustic with the arrival of  "Happy Ever After (Zero Hour)," one of my new personal favorites off the album, which can be enjoyed by fans of multiple genres.
The energy stays slow for the next track, "Sunday Rain," which toes the line of being a power ballad but loses momentum towards the end of the nearly 7-minute track. The spirit picks up once more with "The Line" in preparation for the album's titular track and grand finale, "Concrete and Gold," a slow and methodical ending to a highly energetic album.
As always, the "Foo Fighters" deliver an amazing experience which will leave listeners pressing rewind more than once. The album is truly worth the price and the time it takes to grab a copy. So take a seat, and break into a copy of "Concrete and Gold."
Leave a Comment
About the Contributor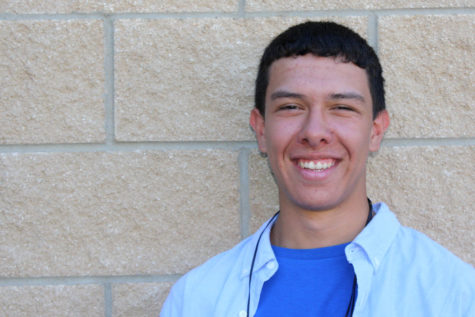 John Flatt, Video Editor
Hey there, I'm John Flatt, the video editor for The Eagle's Tale. I play the alto saxophone in the band, I'm an Eagle Scout, and I'm looking forward to spending this year with all my friends here on the newspaper staff.  I hope to entertain and...