Unite As One conference scheduled for Oct. 22
One-Amarillo will host the "Unite As One" conference at Oasis Southwest Baptist Church from 8:30 a.m. to 4 p.m. Saturday, Oct. 22. The program will include a keynote speaker, breakout sessions and a question and answer panel.
Speech and debate teacher Stefanie Rodarte-Suto is the event coordinator for the conference, which will focus on sex trafficking awareness and prevention. 
"The problem is recognizing that it is truly an issue our area faces, it affects the children that grow up here, so the goal is to provide education and awareness," Rodarte-Suto said. "We want people to walk out with more than just another discussion, with more than just another educational lesson about what is human trafficking and how can we identify it. We really want individuals to be able to walk out with tools so they can plug them into our community."
Participants for the program include Traffick911, A21 and the Amarillo Department of Homeland Security, along with host One-Amarillo, a local organization founded by Patrick and Dixie Bernson.
"
We really want individuals to be able to walk out with tools so they can plug them into our community."
— Stefanie Rodarte-Suto, speech and debate teacher
"We know students are being trafficked out of several, if not all, of our high schools," Bernson said. "This can look like a number of different things, from pimp-controlled trafficking to parents selling their kids for drugs or rent money. Many times, the students being trafficked provide indicators an educator would recognize if they were aware of what they should be looking for."
After becoming aware of domestic sex trafficking in New Orleans, the Bernsons began a ministry in Amarillo to help prevent sex trafficking and aid victims.
"When we moved back to Amarillo, we were educated enough in the issue of trafficking to know the same problem exists here in Amarillo and the surrounding cities, and a united effort between faith-based organizations, service organizations and governmental agencies was needed," Bernson said.  "One-Amarillo exists to be, among other things, a catalyst for the creation of partnerships between previously non-connected groups."
After teaching some high school and middle school Sunday school sessions regarding trafficking, Berson said it became clear that students were under-educated on the dangers of trafficking.
"Human trafficking is an extraordinarily profitable enterprise, with a relatively low risk level, and traffickers are some of the most aggressive people out there," Bernson said. "Students need to take the risk of being trafficked seriously. It's not something that only happens to the poor, the racial minority or the disadvantaged. It is happening at every socio-economic level, with every race, and both male and female."
Registration for the event costs $25 and can be paid online at EventBrite. Persons interested in participating can contact Tifannie Gipson at [email protected] or call (806)-236-6489.
About the Contributor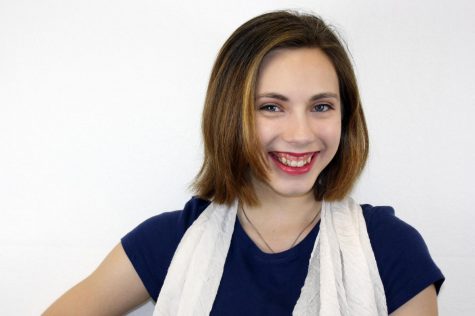 Erin Sheffield, Editor-in-Chief
Hullo! I'm a senior in my third year on staff and my second year as an editor-in-chief. You can catch most of my work in the news and blogs sections. When I'm not around the school with a camera and a press pass, I spend my time in choir, musical, various...