Jumping every hurdle for perfect date
Three couples create unique promposals
Hang on for a minute...we're trying to find some more stories you might like.
Poster boards, paint, twinkly lights and glitter litter the floor as he creates the set-up for a perfect ask. The flash of a camera, a clever caption and a post on Instagram seals the agreement for the couple. A simple question that formed a verbal agreement has now become a modern, carefully planned, creative and fun prom tradition: the "promposal."
For several students attending prom this year, a clever promposal has become as customary as any other prom tradition. Gifts, big posters, baked goods, clever wordplay, public invitations and other creative sentiments have created an exciting alternative to simply agreeing to attend prom together.
"The promposal makes a part of the whole picture," senior Norman Grimes said. "You have to ask, get the dress, the shoes and have a ride. It's part of the whole experience of prom."
Grimes asked his date senior Lexie Bain in an interview with US Milesplit after winning the 110 M hurdles at the Texas Relays. Officials for US Milesplit then posted his promposal on their social media to relay his message to his date.
"US Milesplit tagged me in their tweet, and so I watched the video, and I didn't know until the very end," senior Lexie Bain said. "I was really excited, and I quote tweeted the tweet and said yes."
Like Grimes' promposal, intricate promposals often require the help of others to create, plan and keep the secret until the official invitation. Junior Peyton Ruiz asked his date sophomore Braelly Jones with the help of a few of her close friends.
"
The promposal makes a part of the whole picture."
— Norman Grimes
"I went to Walmart with Chloe Kemp, Payton Harbert and Kira Stockton to get the supplies, and I bought Braelly a fish," Ruiz said. "Then, we went to Chloe's house to make the big poster, and it said 'Will you light up my night at prom?' Then, she came in crying saying yes."
Ruiz's promposal used a large poster set up above Jones's bed with draped lights around it all. Jones said the setup surprised her when she arrived at home.
"First, I screamed because I was scared. He had surprised me," Jones said. "Then I looked at it and thought it was cute because he put so much work into it. He'd been in my room for two hours putting it together, and then I found out I had a fish too. I was so overjoyed and happy, and I said yes."
While some promposals require careful planning, a nice promposal can still be accomplished when an opportunity presents itself. Junior Christian Theiss asked his date senior Libby Belcher on a Sunday afternoon with her family at Belcher's apartment complex pool with a lollipop themed poster.
"I kind of rushed over there because they invited me over for lunch, and I thought it would be the perfect opportunity," Theiss said. "She went into her apartment and came back down, and I asked her with a poster that said 'You blow me away with your perfection, so it's time for me to pop a question.'"
While the acceptance of the promposal was given, Theiss said Belcher's ability to attend prom was the best part. Belcher was hospitalized and underwent two operations prior to the promposal and is still recovering.
"It makes it more special," Theiss said. "I was still on board with her because if she wasn't going to able to go to prom, then I wasn't going to go to prom. She's been really sick, so either way if she couldn't go to prom, I was going to ask her to prom anyway. Even if we had to do something at her house, I was going to take her to prom because it's her senior year, and prom is important to her. I was just waiting for the right opportunity. When she finally said she could go, I was like 'I'm going to go for it.'"
Belcher said their prom experience has a more special meaning to the couple because she is able to attend with Theiss. Two weeks prior to the promposal, Belcher was unsure if she would be healthy enough to attend her senior prom after a complication from a surgery sent her to the ICU. Belcher said she is thankful for the doctors and the support she received while she has been recovering, and that prom will be a milestone in her recovery process.
"It was questionable if I was going to make it through the recovery of the first surgery, and even after I had recovered from both surgeries, it was really important that I stay away from people and germs to avoid infection," Belcher said. "It's a miracle that I was able to heal enough and get on the right medicine to be able to go. I was excited when he finally asked me because we had to wait so long to see if the doctors would even let me go, so it became real that I was going to get to go, despite my health, when he asked me."
While the promposal is a modern and exciting tradition, the three couples agreed how they were asked is not as important as going to the actual prom with their dates.
"I'm excited because I like to dance, and I'm excited to go with Peyton," Jones said. "I liked his cute promposal, but I still would have said yes if it hadn't been because it's the thought that counts. We're going to have a good time."

About the Writer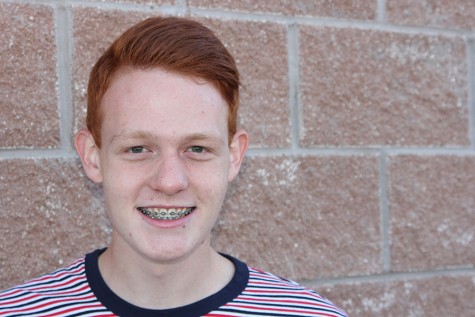 Tanner Cromeens, Staff Reporter
Hey! I'm Tanner Cromeens, and this is my second year on the Eagle's Tale Staff. I am a varsity cheerleader, and I enjoy reading, watching TV shows,...