'Forever' enchanted by 'The Garden'
Hang on for a minute...we're trying to find some more stories you might like.
Excitement crowded my mind, overcoming the awkwardness I felt because when we walked into room, the majority of the people were adults. My heart was pounding fast, and I was feeling silly for being as excited as I was–I did not care. This was the moment I had anxiously awaited for months. She was here, and she was amazing.
"
There was nothing 'impressive' about her; she was not there to prove herself."
— Maggie Bell, 10
Kari Jobe, a well-known Christian artist with her new album The Garden, toured for the first time in three years after getting married and having a child. At the concert, she explained the purpose of the album's title. She and her sister were pregnant around the same time, but her sister had her baby before her due date, and as Kari said, the baby was already an angel. Struggling to find peace amidst the heartache, Kari said she was downright honest with God and her prayers were not so mushy gushy. In this time, however, she had recently bought a new house for her growing family. One day standing at the kitchen sink, she noticed a flower garden she had not noticed before. Her niece's name was going to be James Ivy, and the ivy she saw growing reminded her of God and his purpose and instantly she was overwhelmed with peace.
Hearing this story made her album and her songs so much more meaningful and understandable. It was not something she had just come up with; it was developed by an experience. And seeing her on that stage, she was real. There was nothing "impressive" about her; she was not there to prove herself. She was there with the people, to allow them to make a connection and to worship together as one despite denominations and backgrounds and any other attribute that pulls people apart.
Before the concert, I was worried that my parents had spent too much money purchasing the tickets for me along with two of my friends to attend. However, as soon as we got there, I did not regret it. Though I felt strange for being one of the few younger people there, I did not care. She was remarkable and there was no containing my excitement.
"
It's astonishing to me to believe that a person can be so talented."
— Maggie Bell, 10
It's astonishing to me to believe that a person can be so talented. She, for one, is beautiful, but she also has an impressive set of lungs. As she was singing, there was no shyness to her voice, she was belting out the words, hitting every pitch perfectly and giving the audience an incredible experience. Singing song after song, she continued. She kneeled down on the stage, encountering her own personal experience, and she never gave way to fear of the crowd.
Before she sang the last two songs, she had her brother-in-law come out from the crowd and pray before the audience–a bold move, but also a heartfelt gesture. She then preceded to sing the last two songs, one new from her recent album, and the finale, "Forever," her most popular song. As she raised her voice to sing every note, even more fervent than before, the entire audience joined with her, lifted their hands and rejoiced that the Lord lives forever.
About the Contributor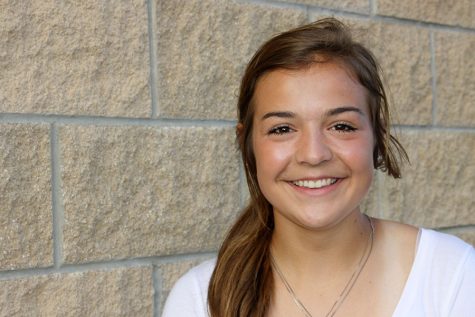 Maggie Bell, Staff Reporter
Hello! My name is Maggie Bell, and I am a sophomore. This year is my first year as a staff member, and I am excited to see where this year takes me. I...