Leo Club encourages students to volunteer, builds leaders
Students assemble in room 2210, eagerly awaiting a meeting for a club involving not only community service, but friendships and socials. A leadership council member hits a bell, call to order. 
Leo Club is the high school chapter of the Lions Club, who together form a partnership of mutual respect. LEO stands for Leadership Experience Opportunities. Leo club sponsor Ellen Ward said the club focuses on building leaders, making commitments to others, and developing friendships. 
"It's important to give back and to develop those habits [giving back to the community] early on," Ward said. "I really like seeing kids get a passion for service and make those connections. Every thing the club members do is about being kind and helping spread cheer through the school."
According to the Lion's Club website, the mission of the organization is to empower volunteers to serve their communities, meet humanitarian needs, encourage peace and promote international understanding through Lions clubs. As the youngest members of the service organization, Leo Club members are still held to the same standard to make a difference in their community. 
"This year, we've packed for Snack Pak [4 Kids], we started our Halloween goodie bags for staff members and we've started our notes of encouragement project," Ward said. "It's kind of weird this year, since some of the stuff we normally do is not really on the table anymore."
"
Leo Club means spreading kindness and positivity around the community."
— Debany Arciniega-Saenz, 12
Many of the service projects the Leo Club had planned in partnership with the Lions Club have been put on hold or canceled because of COVID-19 Ward said. The district recently released that school clubs are not allowed to meet outside of school hours.
"At the moment, it's really not changing any of our projects," Ward said. "We're obviously not able to get together to do a project, but a few of the things we've been doing can be done on an individual basis."
With COVID-19 changing the way school activities are conducted this year, senior Debany Arciniega-Saenz has started taking on many of the presidential duties for the club. Arciniega-Saenz joined the club as a sophomore, new to the community. 
"The most memorable experience I've had in Leo Club was also my first," Arciniega-Saenz said. "I was new in town and there was a tree planting at the park by the pool. That was when I realized, 'Wow, this is so cool. I am actually helping make this world a better place.' To me, Leo Club means spreading kindness and positivity around the community."
Arciniega-Saenz said that her favorite part of this year so far has been being able to organize and plan fun activities for the club members to participate in.
"I think Leo Club strives to have a positive impact on the school," Arciniega-Saenz said. "This year especially, we have been trying to do small acts of kindness and help students as well as staff members."
Leave a Comment
About the Contributor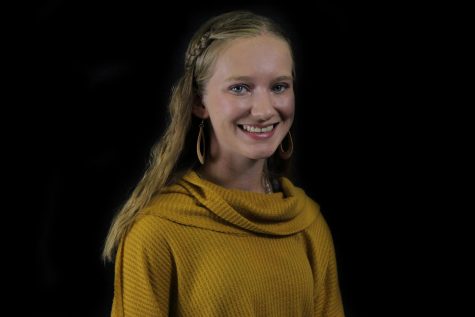 Laura Gill, Associate Editor
Oh, hey there! My name is Laura Gill, and I am a senior. I look forward to being Associate Editor of The Eagle's Tale this year. I am on the leadership team for the Soaring Pride Band, and I am in the Canyon ISD PRO Program. I am also involved in the...