LSU, Clemson face off in National Championship
At the end of an exciting college football season, the No. 1 Louisiana State University (LSU) Tigers and the No. 3 Clemson Tigers will face off in the College Football Playoff National Championship Jan. 13, 2020 at the Mercedes Benz Superdome in New Orleans, Louisiana.
The LSU Tigers, led by head coach Ed Orgeron, are coming off arguably one of the greatest college football seasons of all time. The 14-0 Tigers led by quarterback Joe Burrow have steamrolled most of their opponents this season. The closest wins against Texas and Auburn showed a well-rounded team. However, after these wins the team seems to have only become better in their quest to a perfect season rounded off with a national title.
The defending champions Clemson Tigers are also 14-0 this season. Since nearly losing to North Carolina, quarterback Trevor Lawrence has led his team to victory after victory all season. Facing against No. 2 Ohio State the Tigers came back from a 16 point deficit to win 29-23. Clemson hopes to win back-to-back titles and would be the first to do so since Alabama in 2011-2012. 
"
The LSU Tigers led by head coach Ed Orgeron are coming off arguably one of the greatest college football seasons of all time.
— Luke Bruce, 12
This game, like the season, will likely be one to remember for ages. Both quarterbacks are the definition of an elite new era displayed by the likes of Patrick Mahomes in the NFL. These offenses are some of the best seen in college football history. Heisman winner Joe Burrow has 5,208 passing yards in the bayou and a 204.6 QB rating to lead the Football Bowl Subdivision (FBS). The number one ranked LSU offense have recorded 48.9 points per game this season. Their recent win against No. 4 Oklahoma displayed an explosive offense for the first two quarters. If anyone can bring a win against Clemson, it would be this offense.
LSU's offense, while powerful with Justin Jefferson and Clyde Edwards-Helaire could experience more than a few problems thanks to their defense. In earlier games this season, the Tigers' defense has not always been stellar. Some of the worst performances occurring against Ole Miss and Vanderbilt. After halftime, the Tigers let the Ole Miss offense score 30 points and John Rhys Plumlee rush over 200 yards for 4 touchdowns. Clemson could exploit this defense to find a way to win in the Big Easy. 
Over the past few weeks LSU's defense has showed significant improvement holding Texas A&M to one touchdown the whole game and Georgia to 10 points. Some of this improvement likely comes from a switch from a 3-4 defense to four defensive linemen on the line and one outside linebacker. If freshman corner Derik Stingley Jr. and the rest of the defense can play with this change and like the previous weeks or better, Clemson could be left in the dust.
"
LSU's offense, while powerful with Justin Jefferson and Clyde Edwards-Helaire could experience more than a few problems thanks to their defense.
— Luke Bruce, 12
Nevertheless, Clemson is definitely not a light opponent. In their championship win against Alabama last season, then freshman Trevor Lawrence threw for 347 yards while capitalizing under pressure and in the red zone. Early this season, Lawrence seemed to be less of himself throwing double the amount of interceptions compared to the season before. Lately, interceptions have not been an issue for Lawrence who threw his last interception in October. For Clemson, hopefully Lawrence is at his best. In their recent win against Ohio State, Lawrence seemed to be just that. While under pressure from the Buckeye defense, Lawrence rushed for 107 yards and a touchdown. Lawrence has often displayed his canon for an arm, but a 6'6" quarterback running for 67 yards and a touchdown to end a half is definitely no small feat. The Clemson offense has what it takes to matchup against LSU, but statistically the Tigers from the bayou have an offensive advantage in nearly every category. 
Furthermore, the well-rounded Clemson Tigers have been a defensive beast most of the season. Head coach Dabo Swinney's defense has kept opponents down to 23 points or less the entire season compared to LSU's 41 points or less. Linebacker Isaiah Simmons has recorded 61 solo tackles and 6 sacks to lead his Clemson teammates to multiple defensive wins. This defense will likely perform its best and will be the most difficult challenge for bayou offense.
To add to their advantages, Clemson has been down this road before. They have experience in what it takes to win a national championship in recent years. However, Joe Burrow and his offense will likely be too much for even the most experienced team in the playoffs. They have improved offensively and cruised through most of the season, and nothing would be expected less of the team at the national championship. It will likely be a close game, but LSU will take it at the end of the night.
The pick: 35-28 LSU 
Leave a Comment
About the Contributor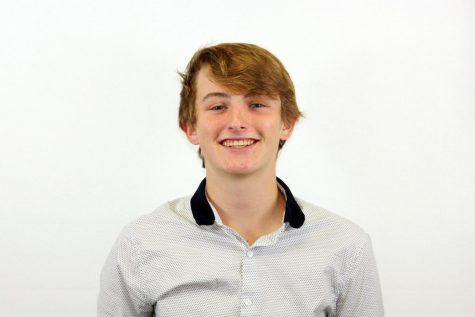 Luke Bruce, Editor-in-Chief
Hello everybody! I'm a senior, and this will be my third and final year on staff. I will be one of the three editors-in-chief this year on The Eagle's Tale. Most of my work this year will be in news and sports. When I'm not at school or work, I love spending...