More than a sport
Sweat drips across their faces as they line up their next shot, run across the finish line or anxiously await a serve. Three student-athletes know this is their last year to compete and they better make it count. Nearly 8 million high school student-athletes compete across the nation yearly, but according to the NCAA only 495,000 of them will continue through college. 
Senior Rhett Roden has competed on the varsity boy's golf team since his freshman year. Roden said some of his favorite memories are on the golf course with his father.
"I want to live in my dad's footsteps," Roden said. "I see all the things he does, how good he used to be, all the friends he has and his reputation that, even though he's 50 years old, he still can't seem to live down. That's the spot I want to be in, to have a reputation for myself after school and in my golf career. I intend to pursue that reputation for myself like my father has."
Roden started golf at a young age and now practices 25 hours a week.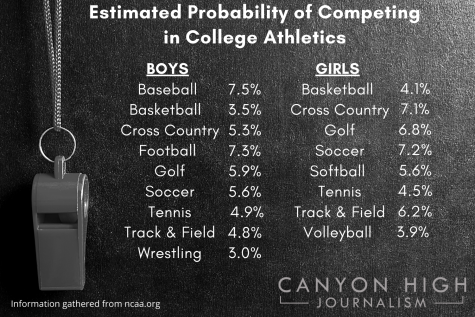 "Parents get everybody started in their first couple of sports, but what kept me going was having some friends," Roden said. "After school, my first step was always the golf course, not because my parents were making me or because we had practice, but because I had a couple buddies and we'd go out there every day after school, play and have fun with it. I enjoy playing with dad and friends in tournaments and going out playing for fun and having something to do."
The boys varsity golf team takes five varsity players to every tournament. Each tournament, the team competes against each other for the spots.
"You're not going to always have the best, perfect round every single time you step out-with any sport," Roden said. "It's really easy to get down on yourself. I haven't missed a varsity tournament all year, but for some of them, I have barely made it. I knew I could have changed what happened just by having a different thought. Keeping a positive mental attitude makes it easier to perform well."
Roden said he tries to focus on making memories while playing instead of stressing about if he is going to do well.
"It's not all fun and games," Roden said. "It's not fun to go to practice every day, but you don't get to compete with five varsity guys every single day. I don't get to experience that but this last year. I wish I could do this forever, having a coach sitting beside me and being able to compete against other schools and have fun. I'm going to miss it."
The NCAA reports only 5.9% of male high school golfers will continue to play in college.
"I don't want to play college golf," Roden said. "I'd rather go to Texas Tech than some small community college, but I'm not good enough to play Division I or Division II. It's hard to sit here and think about what I am going to do with all my free time after high school golf. Right now, I've got my schedule figured out, and it's hard to think about how that's going to affect my life. How much time am I going to spend on the golf course when I'm not forced to be there?"
The National Federation of State High School Associations states that athletics creates an environment that challenges growth mindsets.
"My asthma has made it to where I have to focus more," senior Brayden Treadwell said. "I can't go to practice, mess around and then go home and sit on the couch. It's a lot harder to recover when your lungs are going through constant stress. I take a lot of breathing treatments, and I have to have a chiropractor push on my chest to release the muscles so my ribs can expand."
"
There are times when I get done run-in and I can't breathe [deeply] for a good 20-30 minutes"
— Brayden Treadwell, 12
Treadwell started running cross country in seventh grade despite being diagnosed with asthma in third grade.
"When I'm running and my lungs start hurting, I lean over to try and catch my breath, but it ruins my form," Treadwell said. "I try and focus on taking deep breaths, because asthma makes it harder to breathe in. You have to stay calm because if you start freaking out because you can't breathe, you'll make it worse."
Treadwell said when he first started cross country, many of his friends told him it was a stupid decision.
"There are times where I get done running and I can't breathe [deeply] for a good 20-30 minutes," Treadwell said. "I feel hopeless. A lot of the time I don't have any water, and my inhaler is over at my bag a mile away from me. It's hard to sit there being a little hopeless, but I know it eventually gets better."
Treadwell said he almost quit running his sophomore year because he did not like the environment, but he instead used it as motivation to prove himself.
"I've always been in competition with a lot of people," Treadwell said. "When I was younger, I got bullied for my size because I've always been smaller than everyone. I decided to run because it was a sport that no matter what, if you pushed yourself, you could be good at it. I knew I could prove that I had what it took to be successful."
5.3% of male cross country runners will continue in college according to the NCAA. Treadwell said although he loves running he does not plan to compete in college.
"I'll miss it a lot," Treadwell said. "I'll probably regret my decision multiple times a year. I know how much it means to me. I like to push myself, and I've never found a sport that is more challenging for your physical body. No matter how bad of an athlete you look like you are, you can do anything in cross country."
While some people choose sports because of external factors, others say the sport chose them. Senior Olivia Trask said choosing to play a sport is finding what you are passionate about and pursuing it.
"Tennis means a lot to me," Trask said. "The people make the sport better. Tennis has always been my thing. There are so many things that go into it, and I love the thrill of it. It gives you this rush and makes you think. Everything about it has a good vibe to it."
Trask started playing tennis in second grade and now practices 10 hours a week.
"
This season has definitely been one of my best ones, and for being a senior, that makes me glad that I can go out there and say I gave it my best"
— Olivia Trask, 12
"My inspiration for tennis was my parents," Trask said. "They wanted me to play a sport, and I wanted to play a sport they couldn't cheer loud for. Tennis was definitely the right sport for that. They still cheer loud, but I'm glad I stuck with tennis for this long."
This year Canyon High School welcomed a new tennis coach, David DeLeon, to campus.
"With a new coach and new environment, this season's experiences have been one of the best in my high school career," Trask said. "I wish I could experience more of it, but I wouldn't take back any of my previous experiences with high school tennis. This season has definitely been one of my best ones, and for being a senior, that makes me glad that I can go out and say I gave it my best."
Trask competes in tennis year-round and receives private lessons in the summer to maintain her skills. 
"Sometimes, the hardest thing is to get all of the schoolwork done," Trask said. "It's especially hard when you have to do all your homework and you come home late from a tennis tournament and have school the next day. All of this is definitely manageable though. As long as you get everything done you are good to go."
Trask said she will not continue tennis past high school because she does not want to play on that level of competitiveness.
"I enjoy the mental strength it can give you," Trask said. "It makes you stronger and it allows you to get rid of some stress you may have. If it didn't work the way you wanted it to the first time you played, that is okay. You just need to take time, practice and work on things before you can become good at it. It doesn't matter the age, anyone can play if they go out and try."
Leave a Comment
About the Contributor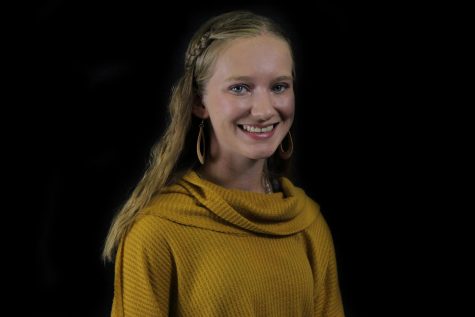 Laura Gill, Associate Editor
Oh, hey there! My name is Laura Gill, and I am a senior. I look forward to being Associate Editor of The Eagle's Tale this year. I am on the leadership team for the Soaring Pride Band, and I am in the Canyon ISD PRO Program. I am also involved in the...