Merry Mary Catholic Cornelsen
Junior offers fellowship through religious blog
The Merry Mary Catholic blog is dotted with pink and yellow text blocks atop black-and-white photos. Some feature quotes detailing religious teachings, statements of Jesus or quotes from the Psalms. Some offer a light dose of "holy humor." All follow the religious journey of Brooklyn, a girl who, within six months, shifted from unwavering atheism to devout Catholicism.
After beginning her conversion to Roman Catholicism six months ago, junior Brooklyn Cornelsen established an Instagram blog (@_merry_mary_catholic_) following her journey in religion as well as the liturgical calendar and Catholic news. She said she established the blog to connect to the Catholic community under pseudonym Mary-Catherine.
"The name Mary-Catherine is a pen name I use on the blog in honor of my favorite saint, Catherine of Alexandria, who will be my patron saint for my confirmation," Cornelsen said.
View this post on Instagram
Cornelsen said she started her blog on a whim.
"The blogs started as a day-to-day posting of the readings of the mass," Cornelsen said. "I plan on doing more discussions and talking more specifically about my conversion so I can relate to more people out there. That's why I created the blog in the first place–to reach more people."
Before her period of atheism and later conversion, Cornelsen attended various Protestant churches but said she noticed inconsistencies in Christian viewpoints which caused her to abandon Christianity as unreliable. After her year as an atheist, a group of friends invited Cornelsen to an Ash Wednesday service.
"Of course, me in all my atheistic glory, I'm sitting there, and I'm like, 'There's no way you're going to drag me to mass,'" Cornelsen said. "The very next Wednesday, I'm suited up in my Sunday best that had been sitting in my closet gathering dust for months, and I went to an Ash Wednesday service. Sitting in mass that day, I realized I had some severe holes in my theory."
Within three days, after reading several books by Catholic theologian Scott Hahn and conducting research, Cornelsen said she came to the conclusion Christianity held some truth.
"
I seek truth at all costs.
— Brooklyn Cornelsen, 11
"I seek truth at all costs," Cornelsen said. "If I find out that something is wrong, I'll reject it at all costs, and if I find out something is true, I seek after it at all costs. At the time, I said that Christianity did have an element of truth to it, and I wanted to find out where that element of truth was."
Cornelsen said she would like to improve her skill in interpretation of the Bible and other texts.
"I've only been on the Christianity track for six months now, so there's a lot I still have to muddle through," Cornelsen said. "There are a lot of resources in Catholicism to help, but I am not capable of deciphering them. I'm not a Biblical scholar."
Cornelsen said last fall, she was very negative, cold and bitter.
"This time last year, I was doing all this soul searching, trying to find something bigger within myself," Cornelsen said. "I myself, Brooklyn Cornelsen, am a finite human being trying to understand an infinite universe and an infinite God. You can't find infinities within finite amounts."
Cornelsen said she is now working on coming out of a social "brick wall" she built around herself.
"
I myself, Brooklyn Cornelsen, am a finite human being trying to understand an infinite universe and an infinite God.
— Brooklyn Cornelsen, 11
"After looking into trying to understand the whole infinite amount that comes with God and religious understanding, I've been able to do a lot of soul searching and changing within myself to better reflect Christ," Cornelsen said. "That's our goal as Christians–to reflect Christ–and I can't do that being a sour grape."
Cornelsen said she recently helped several friends connect to Catholicism.
"I've taken one of them to mass over this past weekend, and he is feeling called toward Catholicism," Cornelsen said. "I am absolutely in love with the life I'm seeing in him. I have never seen him light up for God the way I see now."
Leave a Comment
About the Contributor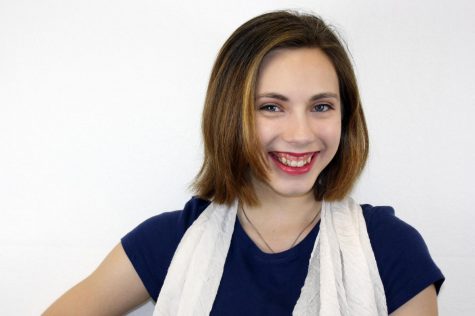 Erin Sheffield, Editor-in-Chief
Hullo! I'm a senior in my third year on staff and my second year as an editor-in-chief. You can catch most of my work in the news and blogs sections. When I'm not around the school with a camera and a press pass, I spend my time in choir, musical, various...