Alternative shopping options outshine Black Friday frenzy
Long lines of customers wait in the freezing early morning air for hours. Visible breathe is released into the sky as quiet conversation is shared among brave families. White-knuckled fists hold coffee mugs and thermoses and huge blankets drape over shivering shoulders. In previous years, the opening of doors only led to stampedes of people. While some save a few bucks, others will be trampled and only leave with bruises. These are the joys of Black Friday.
To commemorate one of the happiest holidays of the year, Christmas, corporations celebrate by having doorbuster sales at insane hours to get people into their store to start the Christmas season. This annual event has changed into something fairly dangerous. An abundance of police reports are filed during Black Friday every year. From dozens of pepper spray victims to people getting trampled to death, Black Friday has become quite vicious. People will greedily shove others out of the way, or ferociously attack them to get what they want. Many companies have started handing out tickets with numbers on them to try and spread the crowds thinner, turning saving money into a lottery game and a long wait.
Some companies have even started opening their doors Thanksgiving night. Wal-Mart, Hastings, Sears and even Toys-R-Us are moving farther and farther backwards into Thanksgiving Day. While that may not seem so bad, it is forcing many employees to get to work midafternoon Thanksgiving Day. These greedy corporations are taking the 'Thanks' out of Thanksgiving and turning it into another profitable day.
However, with the rise of technology, some businesses have turned their attention to a newer event, Cyber Monday. This day has similar sales throughout products and merchandise, but anyone can enjoy it from the comfort of their home with pajamas and a hot cocoa through the internet. Another spin-off is Small Business Saturday, which many local area stores are using to promote their small businesses. Both of these events provide other ways to save on Christmas gifts.
So, before you run out and push some woman out of the way for a gift for your friend or child, stop and remember what Christmas is all about. This year, don't even go to early morning/late night Black Friday shopping. Try Cyber Monday or Small Business Saturday. After all, paying a little more for a gift at a reasonable hour could mean your safety and health this holiday season. 
If you're going to a Black Friday sale this year, first know that it is not safe. Watch out for hordes of people ready to push you down to get what they came for and be prepared for the worst. Second, remember the holiday you just celebrated twelve hours earlier that has its roots in giving thanks for the blessings of life. Third, remember the origins of Christmas that take root in love and the innate kindness within us all. Don't always focus so much on the secular gifts of Christmas, but family and friends instead.
Leave a Comment
About the Contributor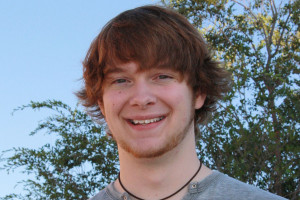 Josh Collins, Associate Editor
This one time, in Australia… Hello everyone! My name is Josh Collins, and I am an associate editor. I am a senior at Canyon High and am involved with several clubs and organizations. I am the president of Key Club, the president of National Honors...