Marching in style
Soaring Pride Band to receive new uniforms before the 2023 marching season
After 11 years of wearing the same uniforms, the Soaring Pride Band will have a new look in August. Band director Eric Rath said the new uniforms are versatile and will enhance future marching shows.
"[The band is supposed to get new uniforms every 10 years] with West Plains opening, we realized it would be better to hold off a year, let that school be the focus in getting what they needed before we requested new uniforms for Canyon," Rath said.
The uniform is purple on the right then fades into white. The uniform is a vest with sleeves underneath it this allows the band to be able to change the color scheme. The helmet and cape are also able to be changed.
"The previous uniforms tend to look very dark, so we asked for more brightness to be present in the uniform," Rath said. "It's not necessarily practical to wear a lot of white in the uniform, especially in the pants."
Percussion director Landry Kendrick said the band staff wanted a uniform that represented Canyon while being able to fit the style of the shows to come. 
"The uniform climate is evolving very quickly, a lot of bands don't even have the same uniform every year," Kendrick said. "We wanted something that would be timeless and it's really expensive to buy a new top every year."
Kendrick said the new uniforms have more contrast than the old uniforms so it will help with the visual aspect of the marching shows. 
"When we're facing backfield then turn to the front there will be a very big [visual] change," Kendrick said. "We can do really cool things with the facing and it'll give more impact when it's not all the same color."
Kendrick said he is excited to see the old uniforms go even though a lot of good things happened in them. 
"A lot of really cool moments happened in those uniforms but this is a chance for us to make a new impact," Kendrick said. "I respect what we did [in the old uniforms] but it's exciting to venture into something new because we've had a pretty similar uniform for a while."
The new uniforms will give the band a better mindset going into the 2023 marching season. 
"The new uniforms will enhance next year's show because it's going to instill a prestigious mindset," junior Liam Stayton said. "We did really well this year at state marching so adding new uniforms will make us feel really good about our ability."
Leave a Comment
About the Contributor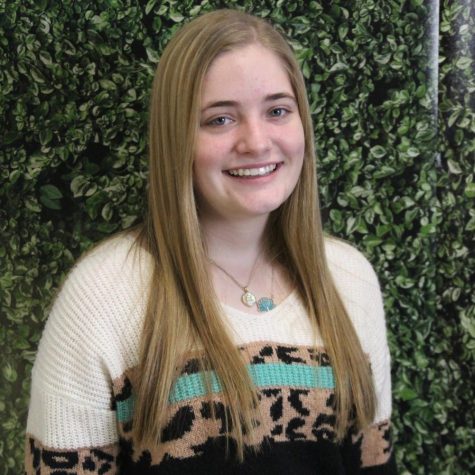 Brenna Ware, Staff Reporter
Hey guys!! I'm Brenna Ware. I am a sophomore and a first year staff reporter. Outside of newspaper I am involved in band and 4-H. At home I love to read, sew, bake, and play clarinet. My favorite animal is a peacock because their feathers are super...