Randall High esports team invites Canyon High student gamers
The Randall High esports team has invited Canyon High students interested in gaming to join their competitive team for the spring season, which began Monday, March 8.
Esports is a multiplayer team-based video game competition. Students can join the team anytime through the semester by contacting esports coach Joshua Wilson at [email protected], or by visiting The Vault Gaming Center in Amarillo.
Through the High School Esports League, students are able to compete in CS:GO, Overwatch, Fortnite, Rocket League, Super Smash Bros: Ultimate, Rainbow Six: Siege, Hearthstone, NBA2K21, Minecraft: Survival Games, Valorant, 10 Minute Chess Chess and Call of Duty: Black Ops Cold War.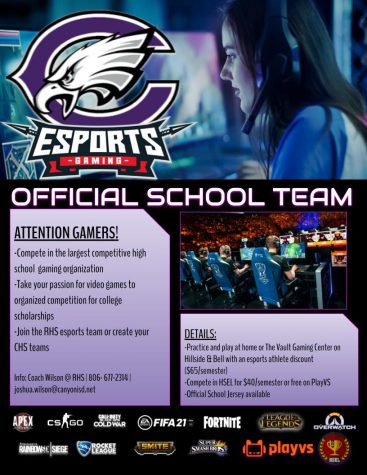 "Depending on the platform, esports can be absolutely free," Wilson said. "Games like Overwatch, Fortnite and Rocket League are free. To compete in other games with scholarship opportunities, the HSEL requires athletes purchase a $40 per semester Battle Pass. The Vault Gaming Center has a $65 per semester usage fee for their equipment and space. At this time, esports is the most affordable high school sport in CISD, costing thousands less per year than club volleyball, club basketball, etc."
Randall High began competing in esports in the fall of 2019 and is currently the only esports program in the Texas Panhandle.
"Randall High already had a Video Game Club during [homeroom] and fielded multiple teams in games," Wilson said. "Once administrators were informed that Amarillo College and West Texas A&M-along with hundreds of other universities in the United States-offered substantial scholarship opportunities, it was an easy decision to make. CISD esports athletes are now able to compete with other high school students for college scholarships."
Wilson said esport athletes fine tune their skills through hours of practice.
"Esports players train hard," Wilson said. "They practice daily, just like any other athlete, and they compete professionally for a prize. They train their minds and reflexes to compete and win.  Professional esports and traditional sports athletes share many of the same characteristics–a commitment to excellence, perseverance and a passion for their sport which fuels the rigors necessary to compete at the highest levels of competition."
"
Esports provides opportunities for those who have a hobby in gaming, or those who have competitive spirit.
— Grayson Thompson, esports team captain
Esports provides students with the skills needed to communicate with peers, Wilson said.
"My team and I meet every day of the school week at The Vault," said Grayson Thompson, Overwatch team captain and Randall High junior. "We are friends with each other, we talk outside of practice and games about the team so that we know where we need to improve. We work well together in most cases."
Thompson said he started competing in the middle of last semester and continues to play for the experience.
"I joined esports because I've always played games, and I'm good at Overwatch," Thompson said. "I thought it'd be a good idea to join it with my friends. Esports provides opportunities for those who have a hobby in gaming, or those who have competitive spirit but don't want to play traditional sports."
Thompson said he gained an interest in esports through video games' advertisements.
"I do hope to earn scholarships," Thompson said. "Sadly, according to the tournament it's harder to get, but I think there are other ways that I don't see right now. Esports has provided me with a way to spend my afternoon that is useful to me. It has made me a better communicator and improved my mechanical skills."
Leave a Comment
About the Writer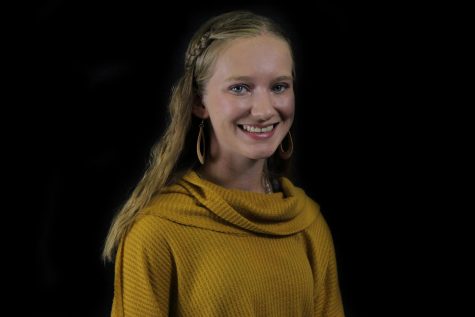 Laura Gill, Associate Editor
Oh, hey there! My name is Laura Gill, and I am a senior. I look forward to being Associate Editor of The Eagle's Tale this year. I am on the leadership team for the Soaring Pride Band, and I am in the Canyon ISD PRO Program. I am also involved in the...