'Still Here'
Yearbook staff reveals book theme
Still learning. Still competing. Still making memories. After the cancelation of the spring semester last year and dealing with an abundance of COVID-19 precautions this school year, Canyon is still here. Our school, our students, our staff and our community.
The Soaring Wings Yearbook staff announced the 2020-2021 book theme, "Still Here," Monday, Feb. 8. Showcasing how students lived through the COVID-19 pandemic and how the school year has changed, the theme also encompasses topics such as 100 years of the yearbook's publication and the aftermath of the 2020 presidential election. Leading up to the reveal, the staff's Instagram page (@soaringwings.yk) has been teasing the theme on their story.
"We've been taking aspects from the book to tease," yearbook associate editor Debany Arciniega-Saenz said. "The point of the Instagram theme reveal is to get students interested in buying a yearbook for those who haven't done so already, and it's a way to get the student body involved in what we're doing with yearbook. So, we have been posting some of the photos from our book as cut outs with hints, such as 'Still Learning, Still Scoring, Still Spirited.'"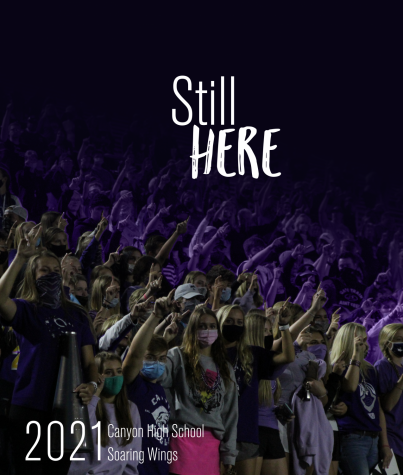 Students can buy a yearbook through Jostens. Senior Alyssa Seaton, yearbook co-editor in-chief, said 'Still Here' was created to accurately represent the students and Canyon High during a year of uncertainty.
"Our goal is to make sure everybody has a story to tell," Seaton said. "It's not just their picture with a name somewhere. Everybody has a story, whether it's why they dye their hair, or why they play basketball. Especially with 2020, we want people to look back and think of the positive, not just the negative."
Seaton said she hopes the book will help show that even in the midst of change to traditions and events, the students of Canyon High were able to make the best out of the school year.
"Hopefully, everybody else feels the same way," Seaton said. "When they get the book and look at it, I hope they realize things weren't as bad as we thought; maybe we can remember the good things that came out of COVID-19, the good things that came out of 2020 and hopefully the good things that are going to come out of 2021."
The editors began developing the theme of the book in August and finalized the theme in September.
"Once we knew the theme, the cover came to life along with the fonts and the colors," said Jasinia Frausto, Soaring Wings Yearbook adviser. "The editors liked the idea of using cut outs to highlight their photographs and do something more creative than a square photo, then they took it a step further and added color behind the cut outs to really make them pop. It's been really amazing to see the yearbook come to life."
Frausto said the yearbook utilizes bright colors in what could be remembered as a negative memory.
"Being able to come back in the fall and have a semi-normal year meant something to so many more students," Frausto said. "Sure, we all had to make some sacrifices, but the fact that we are still here and ready to do whatever it takes to keep our events created unity among our students. If COVID taught us anything, it is that people matter and we want to be together."
"
We have to be thankful that we're still here, despite all the restrictions that we have and all the safety precautions."
— Debany Arciniega-Saenz, Soaring Wings Associate Editor
Arciniega-Saenz said students should care about this year's book because of the unique experiences students dealt with throughout the school year.
"When we look back on it, 2020 and 2021 may be the craziest years of our lives," Arciniega-Saenz said. "We at Canyon High School have the opportunity to come back to school in person and have in-person learning while other people in other schools didn't get that. "We have to be thankful that we're still here, despite all the restrictions that we have and all the safety precautions. We still get the feeling of being here and experiencing normal, everyday life in a different way."
Arciniega-Saenz said the yearbook content is more in-depth than what the staff has covered in previous years. As once in a lifetime events, the stories of our country, our community and our students are the most important part of the yearbook, Arciniega-Saenz said.
"To be able to look back on it and reflect on it and think, 'Wow, I made it through that,'  makes creating this book worth it," Arciniega-Saenz said. "Our duty as a yearbook and as journalists is to record things that are happening here and now and preserving the events that are occurring to reflect upon. Remember how difficult this year was, because we will never forget that, but also remember that we are still here."
Leave a Comment
About the Contributors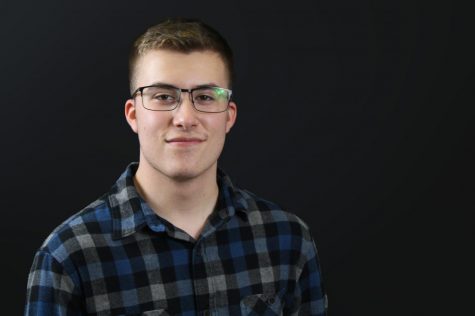 Blake Loria, Editor-in-Chief
Howdy! I'm Blake Loria, and I want to pursue a career in journalism, so I am honored to be serving as editor-in-chief for my third and final year on staff. As a senior, I am quite involved around Canyon High, so when I am not editing or practicing for...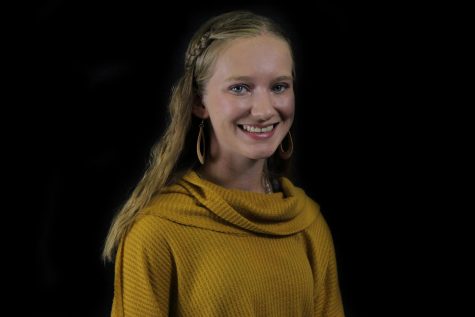 Laura Gill, Associate Editor
Oh, hey there! My name is Laura Gill, and I am a senior. I look forward to being Associate Editor of The Eagle's Tale this year. I am on the leadership team for the Soaring Pride Band, and I am in the Canyon ISD PRO Program. I am also involved in the...