First edition of 'Opus' earns accolades
The band performs the works of Beethoven, Mozart, Tchaikovsky and Bizet on a stage spanning 100 yards in length. More than two months of preparation led to these first eight minutes. This is the "Opus," a juxtaposition of individual performances binding together to create a production never seen before.
The Soaring Pride Band competed at the High Plains Marching Festival Saturday, Oct. 13. The band placed third overall, receiving first place caption awards in percussion and drum majors as well as second place in color guard. The band also earned the outstanding small school award. The band will compete next at the UIL Region Marching Band Contest Saturday, Oct. 20 at Dick Bivins Stadium in Amarillo.
"
The word 'opus' is a really good representation of our show, because it's like what we're doing now."
— Luis Hernandez, band director
"Opus is a Latin term meaning work or composition," band director Luis Hernandez said. "If you ever look at some of the more classical works, they will say something along the lines of 'Symphony No. 6, opus 36.' The word 'opus' is a really good representation of our show because it's what we're doing now. We are putting all of our work, heart and soul into it. The show evolves slowly until 'bam'–and then we'll have it. The more you think about the title, the more it makes sense and really reflects the spirit of the show and our activity."
Hernandez said the idea of creating the band's own opus reflects the work and determination the students show every day.
"The band has been working all this time and grinding with nothing to show for it," Hernandez said. "Whenever we walked into High Plains, I started to think we could start showing everybody what we were capable of doing. I think it's a big boost because it's something tangible to hold onto. The kids know they worked their butts off, and now they are finally getting to see the light at the end of the tunnel."
"
It's no longer just notes on a page one after the other or one step after another. There's suddenly emotion and meaning to it."
— Natalie Lopez, 10
Senior drum major Cory Robbins said the band's first contest was a huge success.
"Going into the contest, I was honestly pretty nervous," Robbins said. "The last few weeks, the show has been pretty rough, and there were a lot of things to fix. However, the band really came out of nowhere and surprised everybody. Everyone pulled their weight and then some. It was fabulous."
Robbins said he hoped to place in the top five bands at the contest and was pleased with the results.
"I was hoping for top five, but I didn't know if that was realistic," Robbins said. "Obviously, it was though, because we placed third and were just two points away from placing first. I was extremely happy. Even though we didn't win the whole thing, we gave it our best shot, and everyone was really proud of their work. Ultimately that's what we're looking for."
"
They are willing to make really wonderful things happen and go the extra mile."
— Luis Hernandez, band director
Sophomore Natalie Lopez said the success of the band came one step and one note at a time.
"'Opus' literally means hard work and coming from hard work," Lopez said.  "As the show progresses, every movement after the next leads you to truly understand the concept of music. It's no longer just notes on a page one after the other or one step after another. There's suddenly emotion and meaning to it. I feel like Saturday's show could have gone better, but I thought it was the best overall we've ever done."
Lopez is one of 22 students featured in small ensembles throughout "Opus." Lopez is featured during Beethoven's "Egmont Overture" and Mozart's "Marriage of Figaro."
"I was very nervous, as pretty much everyone else was, especially as a soloist, because I really wanted to do well in front of everyone," Lopez said. "When I'm playing my solo, I think about each note and the one that comes after it so I don't freeze and mess up. I just keep moving forward. The outcome of the performance made me very proud. It was just a great feeling."
Senior Cody Clark is another of the 22 featured in the show. Clark's feature takes place during Bizet's "Farandole."
"'Opus' is my final show with this band because I'm a senior," Clark said. "This show is just something different from what a lot of other people are doing, and I think our performance went really well. All of our hard work came together to make a great performance."
Clark said while he thought the High Plains performance was good, the band will have to improve even more for the next competition.
"My goal for next week is to help the people who are still struggling a little bit," Clark said. "I want to help them figure out how to make lines and forms and how to keep their fundamentals going all the way through the performance."
Hernandez said the band strives to improve each week in hopes of reaching the state marching competition.
"I think the band has its eye on the prize, which is ultimately to qualify for state," Hernandez said. "I want the kids to know the feeling you get when walking through the Alamodome tunnel. That's something you can strive for all you want, but until you live it, they're just words and you don't know what it is you're striving toward. However, I think that goal is achievable because the morale in the band is definitely high. The fact that the band is willing to work through everything from lulls to insane weather shows they are willing to make really wonderful things happen and go the extra mile."
View Comments (1)
About the Contributor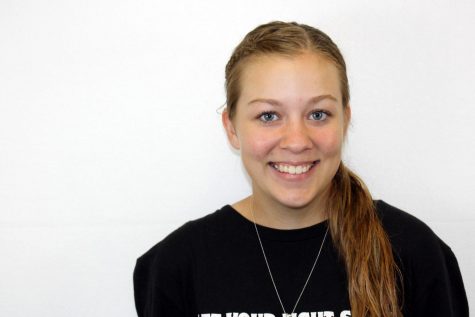 Aryauna Thompson, Staff Reporter
Hello! This is my third year as a staff reporter on The Eagle's Tale staff. I am incredibly excited to yet again work with such an incredible team of journalists. Outside of The Eagle's Tale, I am very active in the Soaring Pride Band, UIL Academics,...