Five named to All-State Journalism Staff
Five students were named 2018 All-State Journalists for their work during the 2017-2018 school year. Graduate Jaren Tankersley, seniors Erin Sheffield and Katelyn Spivey, and juniors Macy McClish and Claire Meyer all earned the award, which was announced in August by UIL.
Students achieve the honor based on a accumulation of points earned through various UIL journalism competitions as well as staff leadership and other opportunities. Students must earn 50 points to be considered for the award.
"One of the best things you can do to become an All-State Journalist is not necessarily shoot for first place every time but go to a lot of competitions," Sheffield said. "Even if you place low, you're still getting points, you still have some consistency, and you're still building up. Don't shoot for first, shoot for hard work. That's what really pays off with All-State Journalism."
"
It's a nice little reminder that your work is appreciated."
— Macy McClish, 11
Sheffield competed in news writing at the state level and editorial writing throughout the year.
"It's not like All-State Choir or Band–it's not an experience," Sheffield said. "It's not something you necessarily strive for. It's just the cherry on top of everything else."
Sheffield was an All-State Journalist her freshman and sophomore years, now adding her junior year to the list.
"It's a huge honor," Sheffield said. "I'm extremely excited to have gotten it again. To have this many All-State Journalists on an itty-bitty little staff shows us that we're doing something right, at least in the writing aspect."
An editor-in-chief of the school newspaper, Sheffield said she is also a die-hard perfectionist.
"Sometimes I have to step back and ask 'is this actually bad, or am I just holding us to an impossible standard?' because that's also really possible," Sheffield said. "We are actually a good staff with a lot of virtues and really cool hardworking people that are doing a lot of really good things."
The students worked throughout the year competing in UIL journalism events at the invitational, district, regional and state contests. These contests are the main way students earn points for All-State Journalism.
"This is my third year on staff," Spivey said. "It means I've put a lot of work into this, and it's paying off. What I've done means something."
"
It means I've put a lot of work into this, and it's paying off."
— Katelyn Spivey, 12
Spivey said the competitions can be very stressful at times.
"I started my freshman year going to the Texas Tech meet, and that was a blast," Spivey said. "It started from there, going from competition from competition. I didn't always win, but I wrote my best so I've always been pretty proud of myself for how I've done."
McClish competed in seven meets, including the State UIL Academic Meet in feature writing. This is McClish's first time to receive the award.
"It's a nice little reminder that your work is appreciated," McClish said. "To write what you did and participate in the meets you did–it did not all go to waste."
This is also Meyer's first time to receive the award after competing in both feature writing and headline writing.
"It really is just going to even the small invitationals on a Saturday, coming in and at least practicing and trying to do well," Meyer said. "Even though it doesn't seem like much at the time."
Meyer competed through the regional level, stopping short of the state contest.
"I do appreciate the achievement for all it's worth," Meyer said. "I feel like even though I didn't go to state in UIL, at least I was still recognized for what I did there. It's knowing that even though I didn't go all the way, I still had success along the way."
Leave a Comment
About the Contributor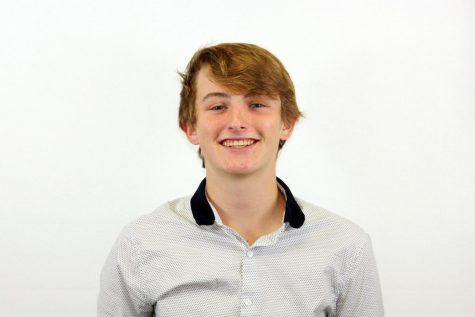 Luke Bruce, Editor-in-Chief
Hello everybody! I'm a senior, and this will be my third and final year on staff. I will be one of the three editors-in-chief this year on The Eagle's Tale. Most of my work this year will be in news and sports. When I'm not at school or work, I love spending...