Journalism team wins UIL state championship
Seniors Sarah Nease and Callie Boren with sophomore Erin Sheffield brought home the UIL Journalism state championship after competing at the UIL State Academic Meet April 21 at the University of Texas in Austin.
Nease placed first in feature writing, Boren placed fifth in  headline writing, and Sheffield placed fifth in news writing.
"It's definitely unreal to be a state champion," Nease said. "As a freshman, I never thought I would get to this point. When I first signed up for journalism, the only thing I wanted was to be on yearbook staff. It's crazy to think how different my life would be if I had not taken Journalism 1. I'm grateful I took Mrs. Smith's class and got involved in journalism because today I plan on majoring in some form of mass communications."
Nease said she remained calm during the contest despite the intimidating odds she faced.
"At the state competition, the contest room was the biggest I've ever been in," Nease said. "There were about 75 kids in there, so it was kind of intimidating until the contest administrator Jeanne Acton told us not to look at our prompts until she started the time. She danced in front of us to lighten the mood and keep our eyes from wandering to the paper. Once the time started, I had an hour to write my feature story."
"
When you push yourself to be the best you can be in a given area, you will find the standard of excellence you set begins to spread to every area of your life.
— Callie Boren, 12
Sheffield placed first in news at the state meet last year and earned a second trip to state again this year. Although Sheffield said she felt pressure as a returning competitor, the contest was a friendly one.
"This competition isn't like others in that people are not so cut throat that they try to play mind games with you," Sheffield said. "The competition is really very friendly and relaxed. It is not that people do not care about where they place, but the competitors will not attempt to bring you down to allow themselves to place higher."
Boren, a two-year state competitor and 2017 valedictorian, said she is thankful for the opportunity to participate in the UIL State Academic Meet.
"My journalism experience and achievement as valedictorian go hand in hand," Boren said. "I have always striven to be competitive in everything I do, so that means constant improvement in every area. Therefore, as I have improved as a writer and journalist, I have also become a better student. When you push yourself to be the best you can be in a given area, you will find the standard of excellence you set begins to spread to every area of your life."
All three state competitors agreed they owed their success to their teacher, adviser and coach, Laura Smith.
"If it weren't for the teaching of Mrs. Smith, I would barely even know what journalism is," Nease said. "Not only has she taught me the skills I need to be a good journalist, but she has taught me life lessons that are invaluable. I was very shy during my freshman year, and she helped me to be confident around people and taught me how to communicate effectively. My peers in journalism are very supportive, and my friends and family are supportive as well."
Although Nease knew she had placed in the top six writers, she said the news of becoming a state champion came as a shock.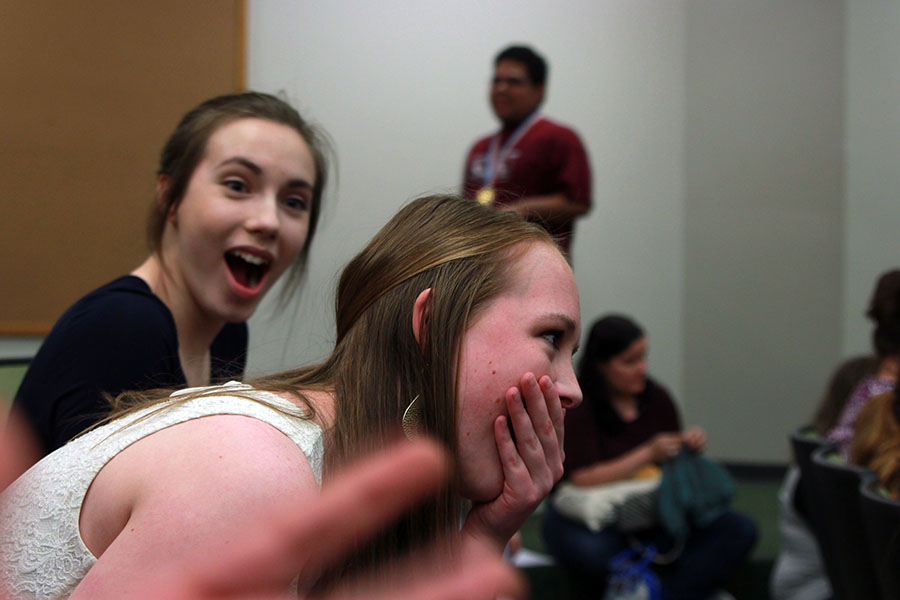 "During the ceremony,  Mrs. Smith announced the 5A feature paper results," Nease said. "When Mrs. Smith announced sixth place, I thought,"Wow I'm fifth!" She then announced the fifth place and I thought,"Wow, I got fourth place!" We went on like that all the way until Mrs. Smith announced the second place winner. I was very happily clapping until I realized I hadn't received a place. It then hit me that I had won, so I looked at Callie and she said, "You got first!"
Laughing as she walked to the front, Nease said she was full of excitement.
"I went up to the stage and shook my head as I realized that Mrs. Smith had hidden my placement from me the entire afternoon," Nease said. "I received my medal, gave her a hug and she told me she was proud of me. It was a very joyful experience and was definitely worth missing prom."
Immediately following the state meet, juniors Jaren Tankersley and Braden Lefevre joined Nease and Sheffield at the UIL State Interscholastic League Press Conference (ILPC) Convention, also hosted by the University of Texas.
"The ILPC Convention is a gathering of some of the best journalists in the state where they share what works," Sheffield said. "For example, I attended a workshop about good social media usage and it was taught by a high school teacher. It was super helpful because he presented some ideas I had never thought of before."
Students attended six workshops chosen from more than 100 options.
"
Winning the top award given to digital newspapers in Texas was a great way to end the year.
— Codi Bradstreet, 12
"There were reporters from the Dallas Morning News, high school teachers, college professors, Pulitzer Prize winners and a variety of people from in and out of the state at the convention to give lectures to student journalists," Sheffield said.
While at the convention, the students learned Canyon High School journalists had earned eleven Individual Achievement Awards in digital news. Award winners included Tankersley, Sheffield, senior Codi Bradstreet, junior Tanner Mahan and sophomores Katelyn Spivey and Aryauna Thompson.
"It was really exciting to hear I had won so many IAAs but the most exciting part was learning I had earned enough points to qualify as a candidate for All-State Journalist," said Bradstreet, who won awards for writing features, entertainment features and sports features. "It was a big goal for me to qualify as an All-State Journalist, and to know all my work this year has paid off. I started to cry when Mrs. Smith told me. It was the day of prom and all my make-up was going everywhere."
Awards for publications followed at the grand awards ceremony Sunday where the best of scholastic journalism from the state was honored. The Eagle's Tale won an ILPC Gold Star Award and was named one of the top five digital newspapers in the state. The Gold Star is the highest scholastic journalism award presented by ILPC.
"I did not attend the ILPC convention but I got a text immediately after the ceremony from Mrs. Smith telling me we had won the Gold Star," said Bradstreet, The Eagle's Tale Editor-in-Chief. "I did not realize how big of an honor it was to receive this award until I researched it and Mrs. Smith told me more about it. Although we have won national awards this year, winning the top award given to digital newspapers in Texas was a great way to end the year."
View Comments(1)
About the Contributors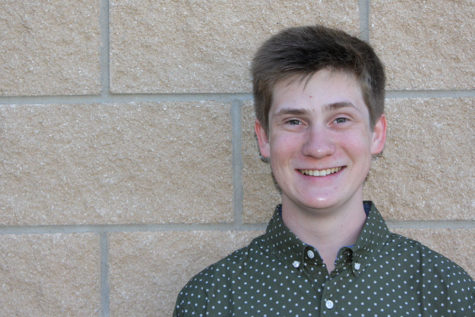 Braden Lefevre, Associate Editor
Hey there! I'm Braden Lefevre, and I am a senior at Canyon High. This is my third and final year to serve as a member of The Eagle's Tale Staff, and I am elated and honored to serve as an associate editor of this stellar publication. I am also the...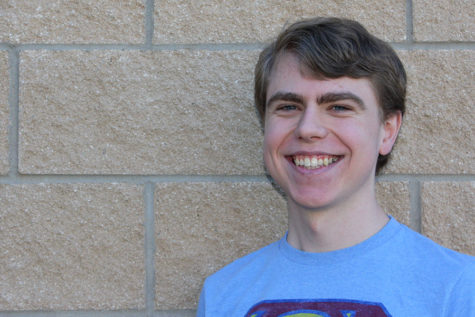 Jaren Tankersley, Co-Editor in Chief
Salutations, I am Jaren Tankersley. I am a senior, and I am very excited to spend my third and final year on the Eagle's Tale staff as Co-Editor-in-Chief. I am vice president of the class of 2018, vice president of our NHS chapter and vice president...