Band earns 106 solo-ensemble medals
Canyon band students earned 34 solo medals and 72 ensemble medals for a grand total of 106 gold awards at the UIL Solo-Ensemble Competition Feb. 4 at West Texas A&M University, with multiple performers qualifying to participate in the UIL State Solo and Ensemble Competition in May.
Participants in the solo and ensemble competition are required to perform their selected piece for a judge, who then proceeds to rank the performance on a scale from one to five, one being the highest possible rating. Qualification for the state competition requires a first division rank on a memorized class one piece for most soloists or an exceptional first division performance from an ensemble. 
"The competition gives students control over their own music, so just as a director controls a large band, the students are in control of their own solos and ensembles," band director Mike Sheffield said. "In these pieces, the individual members of the ensemble or soloist is one to a part and therefore completely independent. Solo and ensemble also teaches kids to work together to create something greater than themselves, because that is how people work in the real world."
"
People work incredibly hard to get a good rating, so the act of working for that medal and then getting feedback from the judges makes you a better musician.
— Nicholac O'Con, 12
Senior All-State Euphonium player Nicholas O'Con said that the Solo and Ensemble competition was a worthwhile experience.
"The contest was a lot of work, considering that we had just finished marching season and then we had to jump right into our solos and ensembles, so I think that it is a difficult event in that way," O'Con said. "Arranging times to rehearse with my pianist was really nice, because Mr. Sheffield was very organized and got all soloists in with their accompanist at some point. This made the competition a smoother experience, which is important because people work incredibly hard to get a good rating, so the act of working for that medal and then getting feedback from the judges makes you a better musician."
Sophomore trumpeter Cory Robbins said he enjoyed the experience of rehearsing with his quartet.
"Our ensemble practiced pretty hard for our rating by meeting every day in activity period and finding times outside of school to rehearse as well," Robbins said. "The audition was kind of nerve-wracking considering that the music contains some exposed solo spots, but we all pulled it together and played very well. The solo and ensemble contest is challenging not only musically, but also in terms of time management, because we have to balance our own music along with the music that we are learning to play for band class."
Sheffield said he is proud to work with the band members of Canyon High after watching their success at the competition.
"Looking back on the competition, I thought it went pretty well," Sheffield said. "I feel like the students really took charge of their work, took responsibility and pride in that work, and then earned the benefits."
Leave a Comment
About the Writer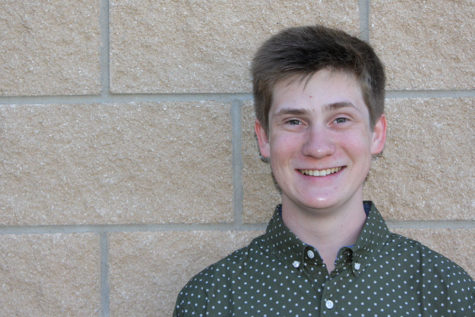 Braden Lefevre, Associate Editor
Hey there! I'm Braden Lefevre, and I am a senior at Canyon High. This is my third and final year to serve as a member of The Eagle's Tale Staff, and I am elated and honored to serve as an associate editor of this stellar publication. I am also the...