Robotics team to compete at state
The robotics team qualified for State UIL Robotics after placing high in several categories at the West Texas BEST Hub competition Oct. 30. The team will compete at the State UIL Robotics meet Dec. 8-10 in Frisco, Texas.
Out of 21 teams, Canyon won first place in the game portion of the competition, first place in the computer-aided design (CAD) competition and third overall for the Boosting Engineering Science and Technology (BEST) award. The BEST program hosts the competition and promotes engineering and technical skills in schools. The program awarded Canyon the Plaque for the Founders for the best use of engineering process in consideration of offensive and defensive capabilities and machine design. This is the fifth year the robotics team has competed in the West Texas BEST Hub.
"We spent a whole lot of time at the school working on this," robotics coach and engineering teacher Bill Troyer said. "We want to do the best we can do."
This is the first year for UIL Robotics. The teams were given six weeks to build the robot prior to BEST Hub competition, then six more weeks to improve the robot if they advanced.
"When I am building the robot, I usually stay until 10 o'clock," junior Isaac Huseman said. "We gave it a plastic surgery and made it look a lot better. I hope the performance is better, too."
"
Robotics is fun, but if you are committed, it will take a lot of your free time after school. If you want to do it, you have to be committed"
— Isaac Huseman, 11
The robot had to fit in a cube with 2 foot measurements and use all the parts the program had given them, including a microcontroller, joystick, large and small motor, battery and several more parts. In exception to this rule, Canyon could use two parts not given to them but made themselves by a 3D printer on their robot.
"When we went to trial run, we noticed that most of the other teams had a robot with a claw on it, and they were only able to pick up one thing at a time," Troyer said. "The way we designed the robot was so that we could pick up a lot of things at one time."
Canyon was 300 points ahead of the team in second place during the game portion. The theme of the game portion was farming, as the contestants had to harvest tomatoes, lettuce, corn, water certain crops and corral pigs. Common items represented the crops. Wiffle balls represented tomatoes, and loofahs represented lettuce. The corn, represented by paint rollers, could be perfectly watered by the robot for more points, and the contestants were supposed to replant the corn after harvesting. There were toy pigs, which teams could corral for more points.
"It is a lot more intense than you would think, because you are in a gym, and the gym is big. It is really warm and always sweaty," Huseman said. "It is like a football game, except the robots are not trying to hit each other. The first time I went to a robotics competition, it was a lot different than I expected. The noise level was higher."
Canyon won the BEST award for the second year in a row and the CAD award for the first time. CAD requires contestants to use software to design models, such as the robot. Huseman said while competing in robotics can be stressful, it has been a rewarding experience.
"Robotics is fun, but if you are committed, it will take a lot of your free time after school. If you want to do it, you have to be committed," Huseman said. "I would say my favorite part is seeing the accomplishment of the robot actually moving. If it breaks, that goes down a little bit, but hopefully we can fix it."
Leave a Comment
About the Contributor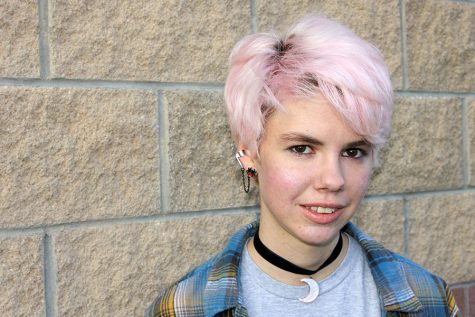 Jamie Abbott, Staff Reporter
Heyo! I am Jamie and this is my first year on staff. I am a junior, and I am very excited for this year. I enjoy reading, creative writing, watching Sailor Moon and listening to K-pop. I invest most of my time in cheesy science-fiction, which includes...