Students share personal experiences balancing work, school
The bell rings, announcing the end of school. Students depart from campus, making plans for the evening. Some will go home and work on homework. Others will binge-watch their favorite show on Netflix. However, some students will leave straight to their next responsibility – an after-school job.
According to a study done by Walden University, 30% of students in high school will be employed for a portion of the school year, either for recreational spending money or to help their families out. Some students, like senior Brianna Van Tassel, choose to graduate early from school to focus on their careers.
"I've always wanted a job," Van Tassel said. "I see myself more as a working person and not a school person. I had a job last year, but during school, it's just so hard. I'd rather spend my time and make money rather than spend my time and get knowledge out of it."
Van Tassel said she considered a job with interior design, but decided to become a realtor when her aunt got her realtor's license.
"I want to stick with real estate," Van Tassel said. "I don't want to bounce from things and do a bunch of different jobs. I'm hoping that once I get there, I will stay there. Later, maybe I'll do interior design with it."

Van Tassel said the amount of school work has been the biggest challenge she's faced.
"Every one of my classes is a core class," Van Tassel said. "It's a big change going from having a bunch of electives to none at all. It's difficult to study for everything, but I still manage to keep all A's."
According to Walden University's website, working in high school can provide students with a lot of skills that will benefit them in the future, such as the importance of budgeting, time management and confidence.
"It helps out with my family's income, and it keeps me busy," sophomore Lillian Ritchey said. "Sometimes I can use some money to spend on fun things, so it's nice. I definitely have a lot of people skills. I'm a manager, and I think I do a good job leading."
Sophomore Jack Canada said although he only works on Saturday, all the money he earns will be going toward his project of fixing up an old Mustang. 
"I work from 5:30 in the morning to 3 p.m.," Canada said. "That used to be five days a week in the summer, but now I had to cut back to one day so that I could recover from that and not have to go to school the next day. Eventually, I plan on trying to work more during the year, maybe working some night shifts, just to get more money. But right now, I'm content with my job."
Canada said having a job has taught him teamwork and how to understand people, while also helping him with group projects at school. 
"I think that if you get a job, it wouldn't be a detriment to your grades," Canada said. "If you have good grades right now, the job doesn't affect it too much. If you work during the weekdays, it might, but if you just work on the weekends, you should be able to do it pretty easily."
Although working during high school has benefits, it also takes away personal time from students. Walden University explains that students want money for a social life but holding down a job leaves them no time to socialize. 
"It doesn't change much, I just have more money than others," Ritchey said. "I don't spend as much time with everybody else. There's a bunch of sophomores that hang out, and I don't go because I have work. I feel like there's a lot of people in this grade that don't understand that."
Leave a Comment
About the Contributor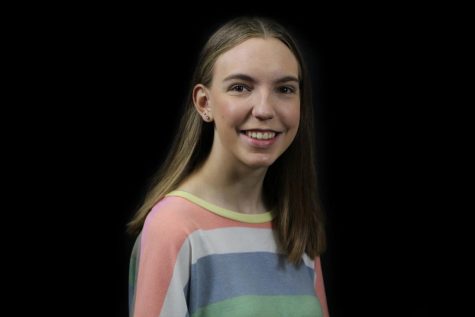 Hannah Backus, Editor-in-Chief
Hello! My name is Hannah Backus, and I am a senior. This will be my third year on The Eagle's Tale staff and second as Editor-in-Chief, and I am so excited to be serving the students of Canyon High once again. Alongside newspaper, I am co-president of...