'Sweeney Todd' slices initial expectations
The Demon Barber of Fleet Street proves to be spectacular show
Two men stand on stage, using their flashlights to search the audience as they sing a haunting tune. A woman cackles as she frantically plays an organ, and the show begins as the audience is beckoned to "attend the tale of Sweeney Todd."
"Sweeney Todd: The Demon Barber of Fleet Street" showed on the Amarillo Little Theater Mainstage on Oct. 24-Nov. 3. The story follows a barber, who, after being transported to Australia by a jealous judge for a crime he did not commit, returns to London after 15 years to get revenge and reconnect with his daughter, Johanna. The play centers on Todd's slow descent into madness, along with several subplots of deceit and mystery.
The cast included Jacob Miller as Sweeney Todd, Kristen Loyd as Mrs. Lovett, Ethan Worsham as Anthony, Anna Bahn as Johanna, Tre Butcher as Tobias, Michael Newman as Judge Turpin, Kayden Burns as the Beadle, Mitchell Hernandez as Pirelli and Kallie Kilburn as the Beggar Woman.
"
The audience can feel both disgust and pity for Todd's less than admirable actions."
— Claire Meyer, 12
The emotional show hinges on four major performances, firstly, the oddly endearing relationship between Sweeney Todd and Mrs. Lovett. Miller does a brilliant job of portraying a vengeful Todd, who only grows more and more obsessed with retribution as the play continues. He is somewhat rigid, but brilliantly so, as it makes his performance all the eerier. The audience can feel both disgust and pity for Todd's less than admirable actions.
The duet, "My Friends" exemplifies how truly in love Todd is with his razor case, and through that symbolism, revenge. It also shows how truly in love Mrs. Lovett is with Todd. Throughout the whole play, she is quietly infatuated with the barber but becomes more obvious as time passes. However, there is more to Lovett than her connection with Todd. Loyd played her character with wit and charm. The audience was not only empathetic towards her but was entertained but her frequent but well-timed jokes.
The other half of the quartet has less showtime but is equally important in the plot. Antony, a young sailor, sees Johanna, Todd's daughter, who has since been housed by Judge Turpin and is promptly enchanted, which is reflected in his bold romantic singing. Johanna, in contrast, is quiet but hopeful, and twitters more than sings, which indicates her confining life with the Judge. Together, they form a forbidden romance.
"
There never was a weak link and all acted spectacularly."
— Claire Meyer, 12
Throughout the play, all Antony wants to do is run away with his beloved, which gives the audience something to root for in an otherwise dark and nihilistic play. Where Todd and Lovett's relationship is stained with past regrets, dark intentions and one-sided affection, Antony and Johanna are pure.
While these four characters, and the actors responsible for their performances, helped tie the emotional appeals to the audience, the rest of the cast was essential to supporting the plot. For example, without Tobias's undying loyalty to Lovett, who becomes a mother figure to the young man, audiences would lack sympathy for either character when more unfortunate things befall them. In short, there never was a weak link and all acted spectacularly.
The backdrop feels industrial and paints a perfect picture of 19th-century London. The main part of the set, a turning building rotated by crewmen with glowing red eyes, has several cubbies, like Lovett's parlor, that provide a variety away from the main side, which is spectacular in itself. This side features Lovett's pie restaurant and above it, Sweeney Todd's famous barbershop. Great attention to detail is paid to this section and it's props, as the deadly duo of stores are where most of the play takes place, most notably, Todd's bright red barber's chair. The seat even has a working lever that drops unsuspecting victims into the "pie" baking room, which releases smoke throughout the play.
"
The best part of the show, however, is the music."
— Claire Meyer, 12
The best part of the show, however, is the music. Originally written by Stephen Sondheim, every musical number in the play adds a new layer of depth and meaning to the already spectacularly intriguing show. "The Ballad of Sweeney Todd," which appears several times throughout the performance, becomes darker and darker as the scenes unfold to reveal evil in the hearts of all but a select few characters.
While the solos are quite good and usually provide insight into a particular character, the duet and group songs are much more entertaining. For instance, Antony's solo love ballad "Johanna" makes the audience instantly fall in love with both characters and their romance, but "Kiss Me" is what establishes the depth of their relationship, despite it being mostly made up of longing looks from balconies. Other songs add mood to scenes, such as "Pirelli's Miracle Elixir" which is both catchy and amusing, in turn adding a humorous moment to a desperate situation. "City on Fire / Searching" feels as anxious as the characters are acting, and pushes the play into its final segments.
In all, "Sweeney Todd" was a success entirely. It was sinister in the best way possible. Every scene in the play felt important and memorable. Between the music, scenery, and acting, audiences feel like they are wandering the streets of Fleet Street, hoping they are not the next victim of the Demon Barber.
Leave a Comment
About the Contributor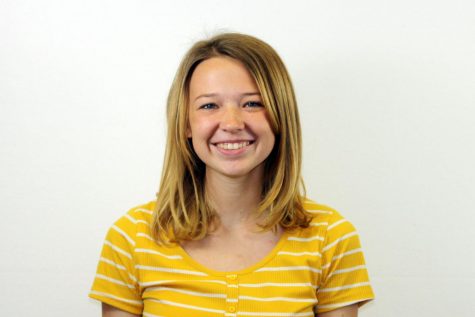 Claire Meyer, Editor-in-Chief
Hi there! My name is Claire Meyer. I am a senior, making this my third year on staff and first as editor-in-chief. When I'm not editing stories in the newsroom, I can be found working at United. In my free time,  I enjoy both drawing and writing fiction...