Bear's Burgers & Dawgs opens with great food, great service
Offering some stellar burgers and service, Bear's Burgers & Dawgs, located in the Depot development behind United on 2nd avenue, is open 11 a.m. to 8 p.m Monday through Saturday. Bear's provides a casual atmosphere with enough seating for a good-sized crowd. The food is not very costly as every meal including a drink and fries would range from $3-$8.
The space at Bear's is not huge by any standards, but the design of the establishment uses the space well. The upstairs space provides more tables with large windows letting in much light. The red brick, big windows and tin interior siding creates the casual atmosphere similar to other burger places. The atmosphere of the establishment is very casual and makes it a point to represent the community with a multitude of insignia representing West Texas A&M University. The facilities and restaurant are also very clean and obviously well maintained.
"
Although it doesn't look like any of the higher caliber burgers in the world, it tasted as good or better than many of those."
— Luke Bruce, 10
The service staff were very kind and efficient in taking orders. After ordering and getting my drink, the food took about 5 minutes before it was ready. I was pleased by the size of the $7 double meat burger which would satisfy most stomachs. The meat was cooked perfectly and the buns coupled with it very nicely. Although it doesn't look like any of the higher caliber burgers in the world, it tasted as good or better than many of those. As my mouth went on the roller coaster of taste of the double meat burger, I was disappointed with the mediocre french fries. Although I never wanted the fries to be the shining point of the meal, I was expecting something somewhat better. They were much too floppy and soft for my delight. However, the burger made up the mediocre fries.
Other than burgers, Bear's offers Frito pies, baked potatoes, hot and chili cheese "dawgs" and a few other dishes. The Frito pie, which I also tried,is a nice comfort food and holds the perfect amount of cheese, chili and heartburn that a Frito pie should have.
Bear's also offers all of the normal soft drinks and a delicious cherry limeade. It is refreshing, tropical and has a nice sweetness. The drink provides an excellent accompaniment to any meal and contrasts that of any other taste a customer may delight upon at Bear's.
With large proportions, a low price, and a family atmosphere, Bear's Burgers & Dawgs is sure to please and become a local favorite.
View Comments (1)
About the Contributor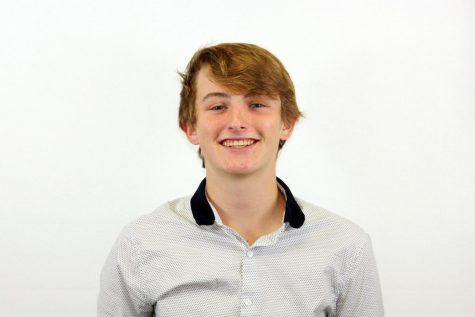 Luke Bruce, Editor-in-Chief
Hello everybody! I'm a senior, and this will be my third and final year on staff. I will be one of the three editors-in-chief this year on The Eagle's Tale. Most of my work this year will be in news and sports. When I'm not at school or work, I love spending...