Five-star homecoming invitation returns
The story sits at number four on the most read stories list with over 4,000 views. Its sweet tale has become well-known across the Internet, reaching new readers daily. The staff stares at it, exasperated, but impressed with its success.
As a sophomore, Avery Cummings, a former editor-in-chief of The Eagle's Tale, published a story highlighting Justin Johnson's 2014 homecoming proposal to Hanna Green. Now a student at the University of Texas in Austin, Cummings said she originally thought the story might give other students an idea to use at homecoming. Since then, the story has grown exponentially in popularity.
"I wrote the story because I thought it was fun and something a lot of people around or students around the campus did," Cummings said. "It's more of a fun thing than anything."
The story has not only reached one of the most read slots on The Eagle's Tale, but has also become a top hit with Google search and is featured as a popular idea on Pinterest.
"
It's so cool to think that when people go to Pinterest and click on it my name is there."
— Avery Cummings, 2016 Eagle's Tale Editor-in-Chief
"It's so cool to think that when people go to Pinterest and click on it my name is there," Cummings said. "Either way it's something really cool to be able to say to people.  It's like 'oh hey, that post you clicked on, I did that.'"
Johnson, now a business management major at West Texas A&M University, said he was not aware his idea had gained so much popularity.
"I honestly didn't know it was number four until my dad told me I was still number four on The Eagle's Tale," Johnson said. "I heard it was on Pinterest, and I was like 'woah.' To be something creative, something different, it was fun to hear that one of my ideas made it somewhat big."
Johnson's brother, senior Jarrett Johnson, followed in his footsteps this year with yet another creative proposal.
"That's something that's great about proposals," Justin said. "You can find something that fits for whoever you're going to ask. When he did it with pancakes, that was something the girl he asked really likes. I was really proud of him. It was really fun."
After being asked for advice for current high school students, Justin said to "go for it."
"Nothing is ever too big or too small," Justin said. "If it works, it's all for the better. You never know until you ask."

About the Contributors
Claire Meyer, Editor-in-Chief
Hi there! My name is Claire Meyer. I am a senior, making this my third year on staff and first as editor-in-chief. When I'm not editing stories in the newsroom, I can be found working at United. In my free time,  I enjoy both drawing and writing fiction...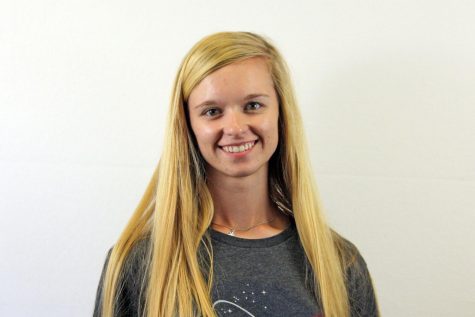 Macy McClish, Editor-in-Chief
Hey! I'm a senior and this will be my third and sadly final year on staff. I am currently one of the three editors-in-chief and the senior drum major for the band. I'm a true coffee addict who loves all the pups. In the rare situation I'm not on the band...