Palace Coffee grounded in community culture
Hang on for a minute...we're trying to find some more stories you might like.
Comment below and tell us about your favorite Palace drink to be entered to win a $25 Palace gift card.  When we reach 100 comments, we will randomly select a  winner.
The rich, heady smell of freshly ground coffee wafts throughout the shop, adding to the cozy environment. The owner sits confidently as he speaks of the ideas that gave life to the thriving Palace Coffee Company. Every word gives a little glimpse into his passion for coffee shops, the art and atmosphere of the slow-paced industry.  
The Palace Coffee Company opened more than two and a half years ago, providing Canyon with a culture created around coffee.   Patrick Burns, owner of the business, utilized previous managing experiences and many visits to other coffee shops to create the Palace, located in the Square. At first, he was going to open the shop in a large city, such as Austin, but decided to look around Canyon.
"Originally, we weren't looking for a small market," Burns said. "For some reason, I just thought I might as well drive to Canyon. The old Palace Hotel was the second place that we looked at. It was vacant for six years and was definitely in a place of disrepair."
The Canyon Economic Development group helped invest funds into the renovation. The Palace Coffee Company opened July 1, 2011.
"It's been a great experience, and we have great regulars that we see almost every day, sometimes twice a day." Burns said. "We're always seeing new faces."
The Palace is intended to be a community coffee shop and is targeted toward people in their late 20s.
"We know that if we can focus on that demographic, college kids will want to be in here because they aren't targeted directly," Burns said. "I didn't want to be a college coffee shop. I wanted to be a community coffee shop.  I knew that if we targeted older, we'd be able to reach the business people, the college people, and some high school people."
Burns said that high school students are welcomed into the Palace, but they need to act like adults.
"They have to fit in with our culture," Burns said. "They can practice how they're going to act in college.  What hurts coffee shops is whenever high school kids take it over. The younger the crowd, the less likely the older people will come in. We designed this coffee shop to be a community coffee shop for adults."
However, Burns said he does not want people to feel excluded.
"I want to make everyone feel included in what we do, but they have to understand who we are," Burns said. "They have to come in and fit into the culture we create."
After coming in second place in the America's Best Coffee House competition, held in Chicago, the Palace's business has increased. Hastings's closing, however, has not really affected the business.
"Hastings has a different demographic," Burns said. "It was a quick drive-thru coffee shop. We are a slower-paced coffee shop. A lot of those people probably drive to Amarillo and hit Roasters, Hastings, or Starbucks."
Because Hastings closed, the Palace has started opening on Sundays from 1 to 5 p.m.
"It's just a four hour hit," Burns said. "We wanted to provide a place for people on Sundays to come and get some great business."
Burns said that when the Palace opened, he asked one of the men over the Hastings coffee program how their business was affected.
"It wasn't (affected) at all," Burns said. "We were able to prove that there was a market that was out there that wasn't being catered to. We brought in a whole new revenue stream without taking it from somebody else. That, to me, was really cool."
More than 40 percent of the coffee is served in porcelain mugs which lends to in-house business.
"When they're just grabbing (the coffee) and going, you get to say a few words but when they sit at your table, you get to come out and talk to them about their day and what's going on in their lives," Burns said.  "It creates a better environment for our baristas and our clients."
Burns said that he hires baristas who truly care about people.
"We want to create an environment where we get to care, nurture our staff and the people who sit across the bar from us," Burns said. "We get to see people on a regular basis that really become a part of our family. To me, it's one of the best things that we do."

About the Writer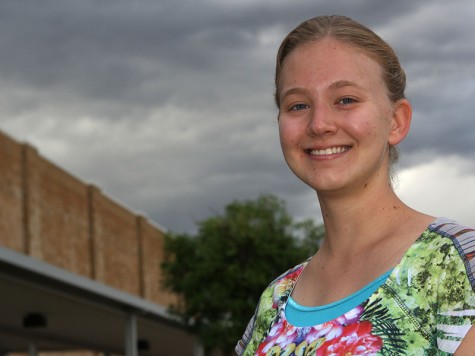 Tasha Brown, Editor-in-Chief
Hello! My name is Tasha Brown. This is my second year on the newspaper staff and first year as Editor-in-Chief.  I'm a senior at Canyon High. I'm...