Passing the competition
Junior named nominee for VYPE top volleyball prospect
The volleyball player stands toward the back of the court, ready to strike at any moment. Her hair is pulled into a sleek ponytail. Her eyelashes sport carefully placed mascara. She is ready for anything. She is ready to work hard.
Junior Bryli Contreras has been nominated as one of 16 top volleyball prospects in the panhandle to watch in 2019 by VYPE, a high school magazine which provides in-depth sports coverage. Those wanting to vote for Contreras may do so via the VYPE website, however, voting closes Wednesday at 7 p.m.
"It's a competition," Contreras said. "Athletes in the Panhandle are nominated and people can get online and vote for who they want to win."
Contreras started playing volleyball because of her aunt, Sara Morath, who currently coaches the high school teams.
"
Overall though, it was such a great team."
— Bryli Contreras, 11
"I was born into it, and I just loved it," Contreras said. "I think any high school sport is awesome because not only do you have a family, but you get all these memories of going on trips and these fun bus rides. It's not even necessarily about the games as much as it is learning life lessons and going through it with your best friends."
Contreras plays libero on the varsity team. The team was undefeated in district and ended their season in the first round of the regional tournament.
"I think we fell short this season in the fact that we wanted to make it to state," Contreras said. "Overall though, it was such a great team. We were all so close and we worked so well together that I'm really excited for next year as well. It sucks to lose, but it brings us closer together as a team. It's not really a bad thing; it's just the hardest part of volleyball."
Contreras said she looked up to her parents as inspiration, both in volleyball and life.
"I'm with them all the time," Contreras said. "They teach me never to quit and they support me, but they also let me know when I have to step it up or do something different. They are good role models because they keep me accountable."
Other contestants for the VYPE top prospect includes Addyson Tiffin, Mia Valdez, Hannah Shipman, Brynlee Wolf, Shelby Ballard, Alyssa Heist, Breanna Leathers, Veronica Guerrero, Lexi Ivy, Jonnah Smith, Zoe Fry, Chelsie Freeman, Alyssa Duran, Rylie Blackwell, Paige McGriff. All are from various cities in the Panhandle and West Texas, such as El Paso and Amarillo. Contreras currently has over 2,000 votes.
"
I learned that you definitely have to do things for other people."
— Bryli Contreras, 11
"If I won, it would definitely make me want to work harder because people expect it now," Contreras said. "Hard work is everything. I had to work really hard when I first moved to Canyon because I was new. It was really scary, but I just focused on volleyball, and everything else just kind of fell into place."
Contreras said the most valuable lesson she has learned in high school is selflessness.
"I learned that you definitely have to do things for other people," Contreras said. "On the court, you have to play for that other person. In school, you have to be there for that other person. You can't be selfish, you have to think of other people in every single thing you do, on the court or in the classroom."
Leave a Comment
About the Contributor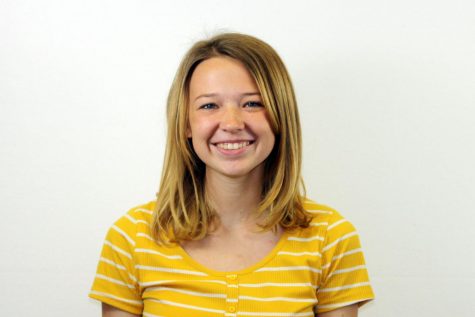 Claire Meyer, Editor-in-Chief
Hi there! My name is Claire Meyer. I am a senior, making this my third year on staff and first as editor-in-chief. When I'm not editing stories in the newsroom, I can be found working at United. In my free time,  I enjoy both drawing and writing fiction...