Track, field athletes to compete at regional meet
The girls track team will advance to regionals today and tomorrow at the Lowry field in Lubbock, Texas along with Isaac Huseman, Dylan Knight, Cade Rebstock and Quentin Weigle from the boys track team.
Eighteen girls will move on after a win at regionals this past weekend at area in Amarillo.  The Lady Eagles received first place at area, and junior Ayse Allison said they hope to get as many points at regionals to move on to the UIL State Track Meet.
"It's going to be pretty packed," sophomore Mackenzie Grimes said. "There's going to be a lot of competition there. There's going to have to be cameras because we will all have close to the same times."
"
You just have to stride through and finish strong."
— Mackenzie Grimes, 10
Allison competed and placed third this last weekend in the 1600m race at the area track meet as well as second in the 3200m race.  She said she hopes to get in the top two spots to qualify for state.
"I started out pretty fast, and my legs kind of weren't feeling good that day, so I didn't do as hot as I wanted to, but it qualified me," Allison said.  "It got me another week of training, so I can't complain. But I don't really want to settle for second."
Grimes won the 100m hurdles and the 300m hurdles this past weekend at area. She said the wind was pretty rough, but that it was not anything she was not used to.
"In 300m hurdles the wind helped for my start, because it was at my back," Grimes said.  "For the finish it was hard, but you expect the finish to be hard anyway. You just have to stride through and finish strong."
To qualify for State UIL Track Meet runners must be first or second at regionals or third best time in all regions.  Grimes said she is looking to qualify today for tomorrow's finals.
"For Saturday I hope to just qualify for State and go from there," Grimes said. "It would be a possibility to win, but we all need to place.  We just all need to support each other, and help each other push each other."
"
I know how it feels to barely not qualify. I'm not about to let that happen again."
— Ayse Allison, 11
Allison will run the 1600m and 3200m race and said that she is looking for a really good time.  Her competition from right up the road, Randall High School senior Karyss Betzen, will compete at regionals today and tomorrow as well.
"If the weather is willing, then I'm ready to run," Allison said.  "Our big emphasis this weekend will be being there for each other.  We have a pretty good shot at winning the regional track meet, we just have to focus in on the small points.  I know how it feels to barely not qualify.  I'm not about to let that happen again."
About the Contributor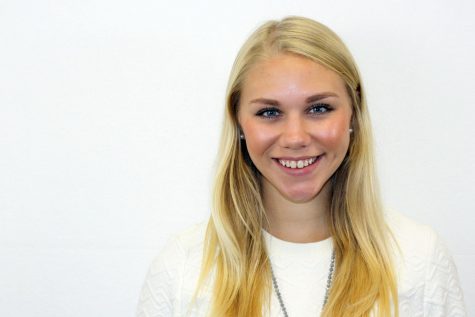 Faith Douglass, Sports Editor
Hey, I'm Faith Douglass! I am a senior this year, and this is my second year in newspaper. I play basketball and run cross country and track. I am in Student Council, Decide to Defy, Fellowship of Christian Athletes, LEAD, National Honor Society and...