Charlie comforts Canyon High
Canyon High School welcomed a dog to campus this fall, here to stay long term. Charlie, a one year old goldendoodle, is the dog of the new school nurse, Paige Tucker. She is available in the nurse's office to teachers and students and can be seen frequently wandering the halls of Canyon High.
Charlie is trained in pet therapy, which, according to Paws for People, can benefit people in a variety of ways, including but not limited to, decreasing isolation and depression, bridging communication gaps, providing comfort, lowering anxiety and decreasing agitation and reducing loneliness. 
"I wanted to have her here to help aid in the mental health of students who have anxiety," Tucker said. "I would like for her to be accessible to someone that needed to come in here. If they come in here, she will play with them, play ball with them, and it's a form of distraction. It takes their mind off of what they were focusing on sometimes, and that will help them. Just coming to play with a pet has proven it increases our endorphins, and it makes us happy."
"
Heart rates go down; emotions get better."
— Paige Tucker, Canyon High nurse
According to Mayo Clinic, people with health problems are not the only ones who benefit from pet therapy; family members and friends who sat in on animal visits also felt better.
"In early nursing, I was in a hospital setting: labor and delivery," Tucker said. "We did long-term patient care for pregnant ladies that were in for long periods of time. We always enjoyed when the pet therapy dogs came. It was for the patients, but the staff even responded to it; we loved it. You're in the hospital, you're cooped up. It would make the world of difference when we had pet therapy day."
Tucker said a pet therapy dog has to have a specific personality and must be calm and willing to be around people and kids for a long period of time.
"I wanted a well behaved puppy," Tucker said. "I started training her very early. You have to desensitize them for anybody to pull on them or anything like that. When she was about six months old, I took her to a training. They have to evaluate them to see if they have the right personality, and she did. We went through two or three days of training. She did excellent, so here we are."
Research from Paws for People shows that being around a pet therapy animal releases serotonin, prolactin and oxytocin, all three of which are hormones that can elevate mood.
"
We've already seen the results here."
— Paige Tucker, Canyon High nurse
"In nursing, you have what we call holistic care," Tucker said. "It's taking care of the body, mind and the spirit. It's not just taking care of the disease. You realize these patients that have been in hospital beds or even they're having anxiety here at school, what an impact that can do to their psyche and make them feel so much better. We've already seen the results here. Some students that are just down, that need to come in here and take a step away–she improves their emotional standpoint."
Paws for People also states that interacting with pet therapy animals decreases anxiety and provides a focus for attention, while also promoting feelings of safety.
"So someone comes in here, has an elevated pulse, they're anxious, they're upset about a situation," Tucker said. "She greets everybody that comes in here. They'll love on her, play with her, start playing [with] the ball. Heart rates go down; emotions get better. They're proven to help people talk, so they'll get more comfortable in here. Sometimes they don't even want to talk, they just want to come in, interact with her–not even talk to me about their problems. Just through play, they'll feel better."
Tucker said Charlie serves not only the students, but the staff of Canyon High as well. 
"I've seen them use her as a reward," Tucker said. "For good behavior, they get to have Charlie in the class. Mrs. Bennett took her outside, and as they read, they got to interact with Charlie as well. Mr. Culbert loves her to come down. With the TLC kids, they love her. They love to love on her; it just helps with the emotional psyche. I can't say it enough, it just makes people happy."
Leave a Comment
About the Contributor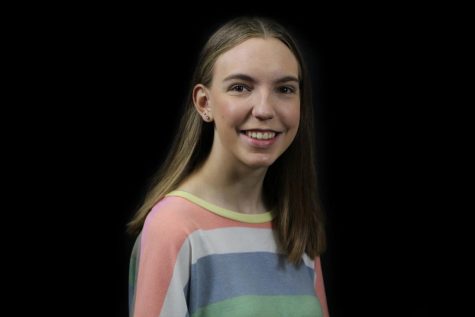 Hannah Backus, Editor-in-Chief
Hello! My name is Hannah Backus, and I am a senior. This will be my third year on The Eagle's Tale staff and second as Editor-in-Chief, and I am so excited to be serving the students of Canyon High once again. Alongside newspaper, I am co-president of...