Making a mathematical difference
Mitchell brings experience, love of math to classroom.
A marker moves across a small smart pad, and on the smart board, numbers and variables slowly fill the blank spaces. Students follow along closely, their pencils sketching graphs and making notes. Math teacher Jessica Mitchell wanders from student to student, patiently helping each with homework during activity period.
Mitchell, who now teaches Pre-Calculus and Algebra II at Canyon High, grew up in Amarillo, graduating from San Jacinto Christian Academy and then West Texas A&M University with a major in math. Most recently, Mitchell earned a masters degree in mathematics from WTAMU, and is also an algebra instructor for Amarillo College.
"I went straight into college knowing what I wanted to do and got out as soon as possible," Mitchell said. "I was always going to major in mathematics and planned on teaching."
"
Solving problems and being successful in math makes me feel good."
— Jessica Mitchell
Following college graduation, Mitchell began teaching at Trinity Christian Academy in Fort Worth, Texas where she taught junior high math and Bible classes plus high school physics and pre-calculus. In addition, she coached basketball, volleyball and softball at Trinity Christian. Out of the many subjects she taught, math has remained her focus.
"I loved math, but it doesn't come easy," Mitchell said. "Solving problems and being successful in math makes me feel good."
After two years at Trinity, Mitchell moved back to Amarilo to teach Algebra I, Duel Credit Algebra and Duel Credit Trigononmetry at Palo Duro High School in Amarillo for five years.
Mitchell said her love of math led to one of her favorite activities, which is helping others achieve their goals within their math classes.
"I want students to know I really am here to help them be successful in this course," Mitchell said. "I want them to know my door is open throughout the day, in the morning and afternoons."
Beyond her love of math, Mitchell has a deep appreciation for the arts and other extracurricular activities.
"I was in 'The Crucible,' and I did choir," Mitchell said. "I was very much involved in sports. I did as much sports and theater as possible. I also was the mascot. I had a well-rounded friend group in high school."
Mitchell said the relationships she builds with her students during their high school careers can last beyond their graduations.
"
I want students to know I really am here to help them be successful in this course."
— Jessica Mitchell
"I do have a lot of students who I've had in the past who will contact me," Mitchell said. "They're in college or they're taking a different class. They ask a lot of questions, and I love helping past students."
Mitchell said she enjoys Canyon and the district she serves.
"I love being so close to my home, and I do love that most students are college bound," Mitchell said. "That's one aspect I love about Canyon."
Mitchell said when she was in high school, she worked hard to have a reputation as a caring, laid back person.
"I wanted people to know that I worked hard and was kind," Mitchell said. "A bunch of times, we remember the people who were nice, but we also remember those kids who were mean. I want people to flip back in the yearbook and think 'she was nice.'"
About the Contributor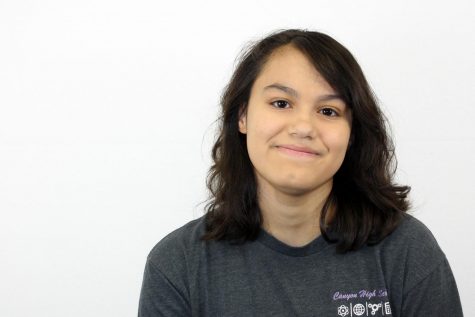 Maryssa Rodriguez, Staff Reporter
Hola! Me llamo Maryssa, and I'm a junior working in my second year as a reporter for The Eagle's Tale. I enjoy drawing, writing and spending time with animals. I'm not only a writer though; in fact, I also like learning new things in subjects such...