Striking Records
Volunteer coaches lead bowling teams to state
The team realizes their odds; after not making it to State for several years, and having to score in one of the top two teams to advance, the chances of getting to the State meet are slim. The weight of the frame in their hands, all eyes eagerly stare at the scoreboard and calculate the score, celebrating when the screen declares both teams would advance. 
Under the Texas Bowling Centers Association, bowlers can advance individually or as a team. The team receives one point for each player's win in singles games. In team games, five people play three rounds, with each person playing two frames. Each pin that falls is worth one point for the team. Canyon High School's girls and boys bowling teams advanced to State after placing 2nd at Regionals March 6.
"Hearing Canyon be announced at Regionals to go to State was an awe moment," sophomore Brylee Jesko said. "We knew we had a chance, but I was like, 'I'll believe it whenever I see it.' Seeing the other coaches' faces being like, 'dang, they came out of nowhere,' was really nice to see."
Jesko advanced in the singles division, and said she was ecstatic the moment she found out she made it to State after placing 3rd at Regionals. 
"I remember I started out really strong," Jesko said. "I had a 250-260s [score], and then all of a sudden I got to a lane where I was getting a 130. I remember sitting there being super nervous, and my sister came over and told me, 'you're going to be fine.' Sure enough, I made it. I felt secure and happy."
Jesko started bowling when she was seven years old, but did not competitively bowl until two years ago.
"
Hearing Canyon be announced at Regionals to go to State was an awe moment,
— Brylee Jesko, sophomore
"It's been fun seeing people that were in the shadows, and then they joined bowling, and we gave them a friend group," Jesko said. "My experience has overall been really good, seeing people come out of their shell and enjoy a sport that you wouldn't even think of. It's always on the back burner."
Jesko said Randy Webb and John Ricker coach both teams and do so voluntarily, which shows their pride in the sport. 
"It's an equal opportunity sport; anyone can do it," Jesko said. "We have coaches that are so willing to be up there. This is something anyone is welcome to, and we're happy to have anyone there."
At State, the boys team placed 8th, while the girls team placed 17th. Jesko placed 27th in the singles division.
"The fact that we made it to State this year made people realize we actually have a bowling team," sophomore Aric Cruz said. "I don't think it was very well known before. That definitely raised awareness for the bowling team, and maybe more people will be interested in joining."
Cruz said he bowled for fun when he was younger, but joined the competitive bowling team this year. Cruz plans to continue bowling through his senior year. 
"
It's an equal opportunity sport; anyone can do it,
— Brylee Jesko, sophomore
"It was a little rough at the beginning for me personally, because I had never bowled competitively," Cruz said. "It was a learning process. You had to develop your techniques for throwing the bowling ball. My game had improved so much, and the coaches were really helpful through the entire process."
With the exception of equipment and a few fundraisers, playing on the team is free. The team practices every Tuesday and Wednesday for an hour and a half at Western Bowl.
"My proudest moment would be in a game I had whenever I was so new to bowling," Cruz said. "I was really worried, because in practice, I was only scoring in the 80s, but I went out and scored a 150. I absolutely destroyed my opponent. That was the most exciting moment right there."
Senior Cole White has bowled for two and a half years, and scored 300 points at the State meet, a perfect score. After High School, White is joining the bowling team at West Texas A&M University.
"That's twelve strikes in a row," White said. "I was emotional, especially since it's my senior year. It's a cool way to end my high school career bowling for Canyon."
Leave a Comment
About the Contributor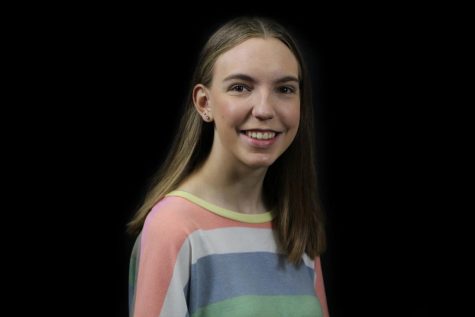 Hannah Backus, Editor-in-Chief
Hello! My name is Hannah Backus, and I am a senior. This will be my third year on The Eagle's Tale staff and second as Editor-in-Chief, and I am so excited to be serving the students of Canyon High once again. Alongside newspaper, I am co-president of...