Interview Week provides 'practice without penalty' for students
Students will participate in Interview Week beginning Tuesday, Feb. 12 as part of Canyon ISD's Competitive Edge Week.
The school will host 45 interviewers, and students can choose from 280 interviewing slots. The interviews are intended to prepare students for scholarship, college, job and general interviews. While the process is primarily for seniors, some juniors are invited to take part.
Librarian Cenee Precure said the goal of Interview Week is to enhance students' soft skills and give them opportunities to learn how to advance in their careers.
"We have several engineers, lots of educators, some retired and some currently in the education system," Precure said. "We also have contractors, electrical engineers, civil engineers, and some professors of exercise and physiology coming to be interviewers. We have a lot from banking, lending. We have a couple of medical professionals and a couple of attorneys attending as well."
Precure said students have been preparing for their interviews in their English classes.
"
One of our goals this year is to match the students with someone in their career field or someone who had a background in their career field."
— Cenee Precure, librarian
"They have been practicing with generic interview questions, and some have even gone to the extent of looking up questions about their careers and things they should know," Precure said. "The English teachers have done most of the preparation as far as juniors and seniors go. The seniors should have their resumes printed out, and they should be checking their school emails. We will be sending tips, and their passes will be handed out Monday so they'll know their time slot."
College and career readiness counselor Mishon Wright said Interview Week is beneficial to both the students and the community.
"One of our goals this year is to match the students with someone in their career field or someone who had a background in their career field,"  Wright said. "Interview Week is a good time for community members to come on campus and interact with the students who are here and potentially looking to pursue a job in whatever field the community member is involved in. Since every senior is interviewed by a community member, it is a good way for the community to get involved this week as well."
Wright said the most important thing students can do is come prepared for their interview.
"My advice for the students is to come prepared and come with a resume," Wright said. "Another piece of advice is to dress your best. We don't want students to go out and spend a lot of money and buy things they don't want to, but look professional. Look nice, clean, dress appropriately.¨
Senior Meghan Kempf said she is looking forward to practicing in an interview situation before she goes to college.
"
It's nice to get a chance to figure it all out before I go into an actual interview."
— Meghan Kempf, 12
"It's nice to get a chance to figure it all out before I go into an actual interview," Kempf said. "I think it will be great practice for me to figure out what I do and don't want to do before I need these skills for real. I will be more prepared and have a heads up on things like dress code and etiquette. Besides that, I am excited about the possible job opportunities which may come from this.¨
Kempf said she is excited to speak to someone about her career field and to make connections within her field of interest.
"I am interviewing with a pastor at Hillside Christian Church,"  Kempf said. "I am not 100 percent sure at the moment if this is the actual route I want to take, but I want to be a pastor or a youth pastor at a church. Networking is a great opportunity, and I may be able to make connections with people who can help me out with jobs or internships in the future."
Precure said the best part about Interview Week is the practice for the seniors.
"This opportunity is really practice without penalty," Precure said. "I was talking to Mrs. Boren yesterday, and she said she has gotten comments from several students already talking about how grateful they are to have participated because it came into play even as a freshman in college. Whether they were interviewing for a club, an activity on campus or for a part time job, the interview was greatly valuable to them. Even though students may not see the value right now, I think they will see it down the road."
Leave a Comment
About the Contributor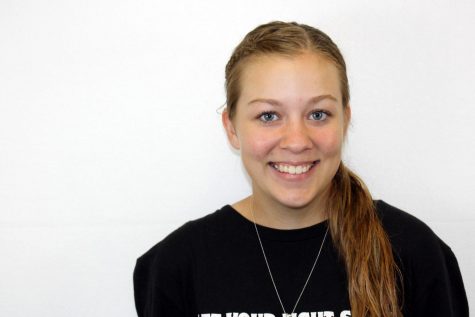 Aryauna Thompson, Staff Reporter
Hello! This is my third year as a staff reporter on The Eagle's Tale staff. I am incredibly excited to yet again work with such an incredible team of journalists. Outside of The Eagle's Tale, I am very active in the Soaring Pride Band, UIL Academics,...