Bell crowned homecoming queen
"Long live the queen! Long live the queen!"
The band chants as she returns from the field to the band section. Her uniform replaced by a gown and sash, her plumed hat replaced with a tiara, senior clarinet player Maggie Bell is the new homecoming queen.
Bell was crowned before the homecoming football game Friday and honored alongside the rest of the homecoming queen court nominees Candain Callahan, Emily Thurman and Brylee Winfrey. Additionally, she was accompanied by homecoming king Seth Nease.
"I was very surprised when they read my name," Bell said. "There's always that little bit of hope that you might win, but I didn't have my hopes too high. I was just blown away."
Bell said she believed the others in the court were quality candidates. 
"
When you're with people you genuinely love and there's a happy spirit, laughter is something that's really intimate."
— Maggie Bell, 12
"Emily Thurman is friendly to everyone, and I think everybody knows who she is because she's involved in a lot of different things," Bell said.  "The other girls out there with me were definitely deserving."
The homecoming royalty is chosen through an online voting process in which the student body can nominate four boys and four girls for the court. The student body then votes for one girl and one boy from among the finalists.
"It's really the whole student body coming together to pick people in the school who are leaders or whatever they see in people," Bell said. "I think that's cool, because a lot of people realize how big of a deal it is that you're in the top four of the students in your school. That's who they picked because they saw something in you."
Bell said she loves relating to people through humor. 
"I love really stupid, corny jokes," Bell said. "When you're with people you genuinely love and there's a happy spirit, laughter is something that's really intimate. I really love making people happy and I think laughing comes with that."
Bell, who plans to attend Oklahoma State University to major in business and establish her own bakery, said she hopes to make the most of her time left at Canyon High.
"I want to impact people more than I want to improve my GPA," Bell said. "I want to be the senior who leaves the halls of the high school and is not forgotten by the freshmen. I want to genuinely love people and be remembered more for that than anything else."
Leave a Comment
About the Contributor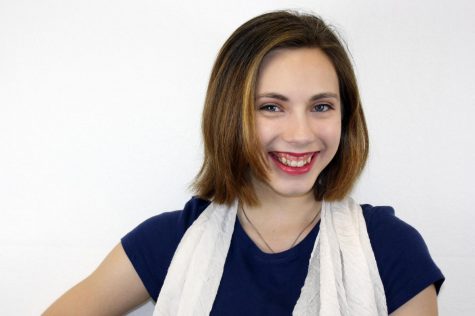 Erin Sheffield, Editor-in-Chief
Hullo! I'm a senior in my third year on staff and my second year as an editor-in-chief. You can catch most of my work in the news and blogs sections. When I'm not around the school with a camera and a press pass, I spend my time in choir, musical, various...