CISD District Supprt Center to host free Google classes March 20, 22
The District Support Center will host two free Google training classes beginning with a class covering Google tools March 20. The second class will cover internet safety March 22. Both classes run from 5:30-6:30 p.m.
Chief Technology Officer Michael Keough and Director of Digital Innovation Chris Norton will give the first class covering how to use Google tools to collaborate with others and increase productivity. The second class will include Keough's book covering the top eight categories impacting safety online. To sign up for these classes, go to http://learn.cisd.us.
"Google is a cool tool, because not only can you do word processing and that type of thing, but there are a lot of really cool ways you can use Google for productivity and creativity," Keough said. "We use Google everywhere, and we want everyone to not only be aware of the product, but how we are using it."
Keough said technology constantly changes, and it changes very quickly.
"
The Google you use today may not be the Google you use in a few years."
— Michael Keough
"There was a guy named Gordon Moore who worked for Intel and created Morse Law," Keough said. "He believed processing power would double every so many years, and it has begun to double about every three months. I say that to explain the Google you use today may not be the Google you use in a few years."
The purpose of these classes, Keough said, is not for people to learn how to use Google, but to learn how to use any kind of word processor.
"This way you can sit down and use (Apple) Pages, you could use Google Docs, or you could use Microsoft Office or whatever the new standard may be in the future," Keough said. "We want you to know how to use a concept, not a product."
The second class Keough will give will cover all internet safety and is based on his book, which is also found online as well.
"I want community members to know how to be safe online," Keough said. "Hopefully it will teach people how to be safe in coffee shops and how people hack your identity."
Keough's book covers internet safety with eight main points which he will explain in the meeting.
"
I want community members to know how to be safe online"
— Michael Keough
"The eight points from my book I will cover are internet safety, the cloud, communication safety, digital footprint, information awareness, continual learning online, social media and creative rights," Keough said.
Keough said it is very important for safety reasons to know what digital footprint is and what other people can know about you.
"You leave a footprint when you go to Facebook or when you go to bad websites," Keough said. "Everyone has a digital footprint and not only is it seen by the government, but also by your internet provider. We want to help the community and inform people of what's going on online every day."
About the Contributor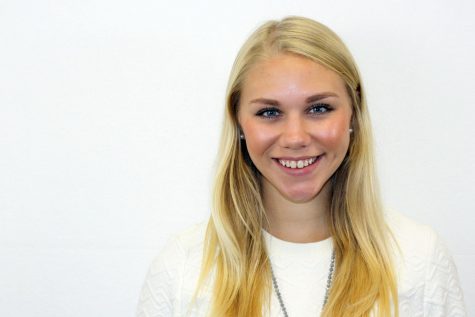 Faith Douglass, Sports Editor
Hey, I'm Faith Douglass! I am a senior this year, and this is my second year in newspaper. I play basketball and run cross country and track. I am in Student Council, Decide to Defy, Fellowship of Christian Athletes, LEAD, National Honor Society and...