The Eagle's Nest now accepting credit, debit cards
The Eagle's Nest store will begin taking major credit and debit cards Monday.
The new register system was introduced by senior and general manager Logan Hinders. The school store will also sell new products including clothing, food and drinks.
"We are using an iPad with the Square Credit Card Reader," Hinders said. "We have all of our products listed with pictures of them on the iPad so we just select the product and swipe the card."
The Square Credit Card Reader plugs into the headphone jack to connect to the Square Register Application. The application connects through the internet to the consumer's bank account.
"From an educational standpoint, switching over from an old-school cash register to the new iPad register will be good for the entrepreneurship class," Hinders said. "Real world entrepreneurs are moving towards the iPad driven systems and the computer driven point of sale system."
The Eagle's Nest will bring in several different Coca-Cola products including Coca Cola, Sprite, Vitamin Water, Powerade, Dasani Water, Dasani Flavored Water, Fuze and Tummy Yummy. These new products will also be available Monday.
"We can only sell Coca Cola, Sprite, Fuze and Tummy Yummy after school because it doesn't meet the federal and state nutritional guidelines," senior and general manager Riley Dunbar said. "Vitamin Water, Powerade, water and flavored water can be sold during school along with Goldfish, crackers, the fruit snacks and beef jerky."
The Eagle's Nest began over a year ago and continues to bring in new and unique products.
"More merchandise will bring in more people," Dunbar said. "We are working on designing shirts for girls and guys and designing hoodies. We also have the 'Celebrating 110 years' bands."
The Eagle's Nest will host an event to celebrate its new releases Monday.
"We will be having a big release of the new Coca Cola products and the Square Register on Nov. 4," business teacher Marcie Cook said. "The store is run by the entrepreneurship students so we really appreciate the business of people coming in to support our students."
Leave a Comment
About the Contributor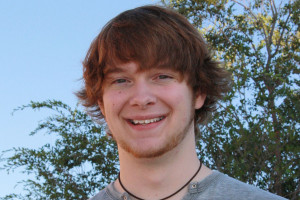 Josh Collins, Associate Editor
This one time, in Australia… Hello everyone! My name is Josh Collins, and I am an associate editor. I am a senior at Canyon High and am involved with several clubs and organizations. I am the president of Key Club, the president of National Honors...