Canyon ISD launches Career and Technology Academy
The open double doors of the Career and Technology Academy welcome in sunlight, guiding guests into the high-ceilinged hallway. The light shines through the glass windows of the culinary arts classroom and kitchen, reflecting off the ovens and refrigerators lining the back of the room. Across the hall, cosmetologists work at sinks positioned against the teal walls, carefully washing mannequins' hair. On the other side of the modern building, a replica of a hospital is equipped with beds and monitoring equipment. Students mill about it all, working and learning about their various activities. 
The academy officially opened its doors at a ribbon-cutting ceremony Tuesday, Sept. 24. The academy offers programs in construction, cosmetology, culinary arts and health sciences to Canyon High, Randall High and Midway students. CISD Superintendent Dr. Darryl Flusche said the purpose of the academy is to equip students with skills to aid them in the future.
"
It is our desire to provide students opportunities for their future.
— Darryl Flusche, CISD Superintendent
"We wanted to address the workforce needs by what we are preparing our kids with," Flusche said. "I want to be sure the community knows the focus of these areas was not accidental. If we prepare kids in these skill sets, then what we've done is created an avenue so they can advance into whatever future they want."
CISD Director of Secondary Education Marc Hamil said the academy teaches a broad array of skills.
"My job is to oversee the CTE (Career and Technical Education) programs and to get students in the door," Hamil said. "Along with hard skills, like learning how to be a plumber, electrician, carpenter, or restaurant manager, we are also teaching soft skills to make students successful. The main goal is for the students in this facility to finish these programs career-ready, so they can walk out the door and get a living wage job after high school."
Hamil said the district wants more students to attend classes at the academy and plans on expanding the number of programs available to students.
"We still have empty seats and rooms to grow," Hamil said. "This is our first year, so I think students don't know a lot about our programs. We are going to be giving tours and making a website, so hopefully we branch out. My advice to students who are interested is to jump on board and see if any of the programs are right for them."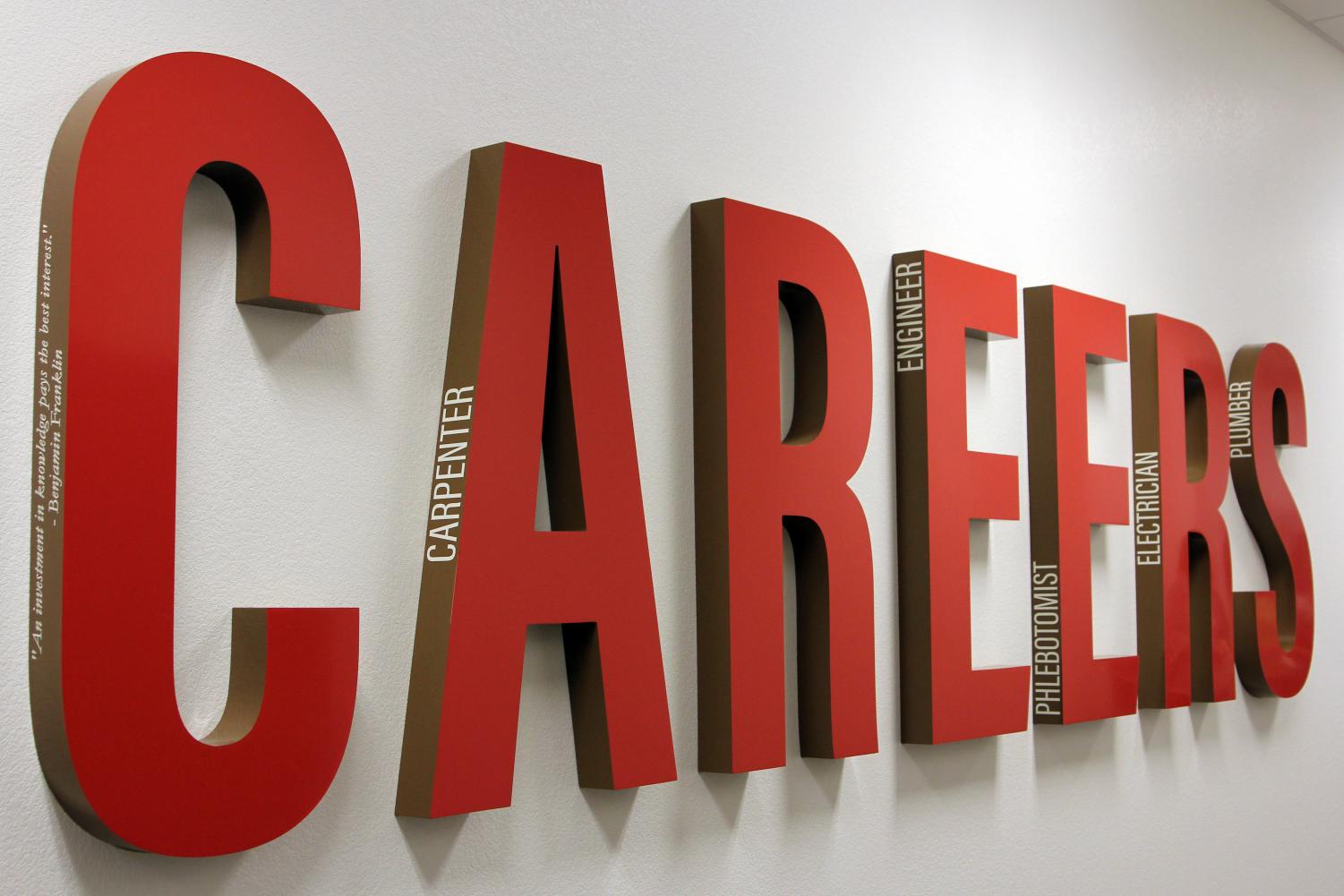 One program the district plans to incorporate is a Cisco Networking Academy, a program that teaches students how to design, build, maintain and troubleshoot network systems. 
"We want to teach students how to begin to get certified," Flusche said. "The latest we've learned is if a student has a certification in Cisco Networking Academy, they can leave high school and earn $60,000 a year. That creates a future for kids, and in the next two years, that is what we hope for the two empty classrooms in the building."
Flusche said the academy will further benefit students in the available programs.
"Over the past four years or so, there have been about $21,000 of scholarships earned because of how culinary students can bake and cook," Flusche said. "That's a pathway to their future. As you go further around the hall, you'll see the cosmetology area, where students are doing facials, nails and haircuts. These are things the programs are teaching them so they have a skill set and can be available in the workforce."
Not only does the academy provide opportunities for students, but the cosmetology and culinary arts programs will provide their services to the community, with a bakery and a salon.
"
Thanks to this program, I can find work right after I graduate.
— Nicole Loria, Cosmetology 1 student
"For the CTA [Career and Technology Academy] opening, we made cookies and other little treats, which was great practice," said senior Toby Macklin, a Culinary Arts 2 student. "I am excited to get to do more stuff like that. We have a bakery, and we sell all the stuff we make, so teaching students how to do that will help us in the future, even if we aren't going into that industry."
The cosmetology program will open its student salon Wednesday, Oct. 16. Junior Nicole Loria, a student in Cosmetology 1, holds a license in the field.
"When people want a haircut, their nails done, or any of the other services we do, they can either call 1-800-677-2760 to make an appointment, or we can do walk-ins," Loria said. "It is great experience for the real-world and will help us with the business side of things. I have always had a passion for painting nails and doing hair, and I plan on becoming an esthetician after high school. Thanks to this program, I can find work right after I graduate."
Leave a Comment