Registration now open for May 4 Color Run to benefit Tatum Tough Foundation
The sophomore class will sponsor a Color Run May 4 at 2 p.m. at Canyon High School. The run will benefit the Tatum Tough Foundation. Everyone in the community is welcome to participate.
Runners will have to pay $30 on MyPaymentsPlus by April 22 to receive a shirt, sunglasses and a bracelet. Participants can register the day of the race for $20, but no shirts will be available. Businesses are also welcome to donate $30 to receive a shirt.
"
"The more runners, the more we can give back."
— Kimberly Sharber, class sponsor
"All the shirts will be different with bright colors," sophomore class officer Leah Jamieson said. "We see all kinds of cancer runs, so we wanted to something a little more fun. We thought Color Run was perfect. It's something family friendly that everyone would want to come do."
While there are only five registrants for the run currently, Color Run organizer Kimberly Sharber hopes more will sign up by the deadline.
"We've been trying really hard to promote it," Sharber said. "The more runners, the more we can give back. The Tatum Tough Foundation is awesome. They're working constantly–it's really behind the scenes. We have a lot of respect for that, and that's why we really wanted to donate."
For every runner that pays $30, the sophomore class officers will give a potion of the money back to the Tatum Tough Foundation, once the costs of merchandise have been covered.
"I feel that we should give back," Jamison said. "Being a class officer doesn't mean much, but I think it should. Tatum was important to a lot of people, and I felt that this was a really important way to give back to someone in the community."
There will be several distances marked off for the runners, including a 5K, 3.5K, 1.5K and a kid's .5K. Runners will stay to the outside of the rope, while walkers will stay to the inside. Pets are also allowed.
"We will also have live music," Sharber said. "We have some students that will be doing face painting. If parents want to run, we're going to have some games set up for the kids."
The Color Run is meant to be part of the sophomore class officer's alternative to a senior gift.
"
We're just trying to give back to Canyon and the the community. "
— Leah Jamison, 10
"The 2021 class in general has really big ideas," Sharber said. "It's a very motivated group, and I try not to stifle any of that. Their goal is, instead of having a senior gift, they want to have a legacy of giving. They want to give every year."
Possible future projects for the sophomore class include benefiting I Heart Canyon and children or teens in foster care.
"This year we have been giving back," Jamison said. "We have being giving to the teachers with the lunch and the breakfast. Now we're doing this. We're just trying to give back to Canyon and the the community. We want to show that our class is supportive and involved."
Leave a Comment
About the Contributor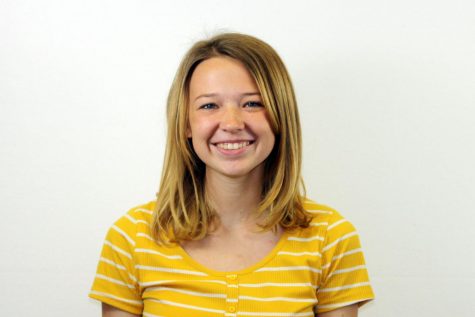 Claire Meyer, Editor-in-Chief
Hi there! My name is Claire Meyer. I am a senior, making this my third year on staff and first as editor-in-chief. When I'm not editing stories in the newsroom, I can be found working at United. In my free time,  I enjoy both drawing and writing fiction...