'Mary Poppins' brings music, magic to stage Nov. 15-18
The all-school musical "Mary Poppins" will run Nov. 15-17 at 7:30 p.m. and Nov. 18 at 2:30 p.m. in the auditorium. Adult admission is $10, and student admission is $5.
"Mary Poppins" follows the journey of the Banks family, which hires nanny Mary Poppins (senior Katelyn Spivey) to care for the children, Jane (junior Mia Bonds) and Michael (senior Nolan Quintanilla). Throughout the show, the children meet a jack-of-all-trades named Bert (senior Levi Wilkins), the living statue Neleus (senior Autry Jones) and Mrs. Corry (senior Erin Sheffield), the owner of a talking shop. 
"This musical has something in it for everybody, even if you don't like musicals," Spivey said. "This show has so much humor in it, so much heart in it, and it's amazing to be able to watch a high school production full of so much talent and so much excitement. Everything has been done by the students, and I think anybody can appreciate that."
The show features technical elements such as "magic," stunts, complex sets, and lighting and sound effects.
"
Everything has been done by the students, and I think anybody can appreciate that.
— Katelyn Spivey, 12
Among the technical effects are magical elements in "A Spoonful of Sugar," in which Jane and Michael Banks and their butler, Robertson Ay (senior Isaac Kizziar), accidentally break the table and various dishes in the kitchen.
"Robertson Ay ends up knocking everything down because the kids forced him to have a panic attack, and Mary comes in and fixes everything," Quintanilla said. "Pots and pans are lifted up. An entire table goes from being broken to being fixed with just a snap of the finger. There are so many technical challenges."
Spivey said playing Mary, who knows the past and the future without outright revealing it to the audience, is interesting.
"I want to know what her past is," Spivey said. "When she makes all these vague references to the future, I want to know what she's talking about, but I don't, and that's part of the fun of the show. The audience gets to take that journey with the children, and the only people who know even remotely what's going on are Bert and Mary."
Spivey said dancing as Mary Poppins is a challenge because of the attention to detail.
"
It's one of the most fun roles I've ever played.
— Nolan Quintanilla, 12
"Mary is practically perfect, and Katelyn is not," Spivey said. "Mary is a very put-together dancer, and Katelyn is not. Because Mary is so put-together, proper and meticulous, it's been a bit of pressure on me to put in all of the extra hours at home, in activity period and whenever I can to make sure I am dancing as well as I can."
Quintanilla played Chip in "Beauty and the Beast" and said playing Chip differs from his role as Michael, despite the two being children.
"Chip was a nice, little well-mannered boy who everybody loved," Quintanilla said. "It was a cute one-liner role who got to get up there and sing and make everybody saw 'aw.' Michael is a complete menace. He decides to disobey everything anyone tells him. It's one of the most fun roles I've ever played."
Spivey also played the lead role in last year's musical, "Once Upon a Mattress," during which she said she discovered her love of performing and musical theater.
"There was not a minute I hated during that process, and it's the same this year," Spivey said. "Even when it gets stressful, there's still this little voice in the back of my mind screaming with excitement."
Spivey said as a senior, the scene in which Mary tells the children goodbye touches her emotionally.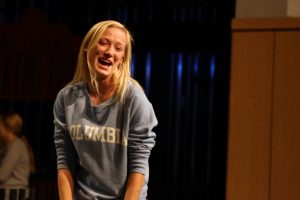 "It always makes me tear up because it reminds me it is my senior year, and I will be leaving," Spivey said. "For me, it's not Mary saying goodbye to the kids. It's me saying goodbye to my friends. It's going to be interesting during the show because I can't cry, but the time we staged it, I started bawling, and Levi [Wilkins] was crying, too, and then Nolan [Quintanilla] teared up, and it was a big sob fest."
Both Spivey and Quintanilla plan to pursue music-related fields after high school. Spivey will attend the University of North Texas to pursue a career in music, and Quintanilla will attend West Texas A&M University to major in musical theater.
"I love soaking up every bit of music I can get," Spivey said. "Nolan [Quintanilla] and I were talking about this when we were staging 'Anything Can Happen If You Let It.' We finished and looked at each other and started talking about how during that number, we get filled with such intense joy because that's what we're going to do for the rest of our lives. We're never going to be without that joy we get from singing."
Quintanilla said he relates the children's journey to maturity with his own high school experience.
"You go into high school being this noisy, troublesome little freshman nobody likes, and then hopefully, you leave senior year being a more behaved, mature kid," Quintanilla said. "High school's a journey. There were a lot of ups and downs, and I started off a little not great, and I like to think I've matured and am a better person now. I get emotional just thinking about it."
Quintanilla said the community should see Mary Poppins because of the work devoted to it.
"I am emotionally and physically exhausted, but I don't care because I know it's for a really good reason," Quintanilla said. "This show is more than a musical. It's more than just a show. It's a symbol of becoming a new and better person. It's something the community needs to see."
Leave a Comment
About the Contributor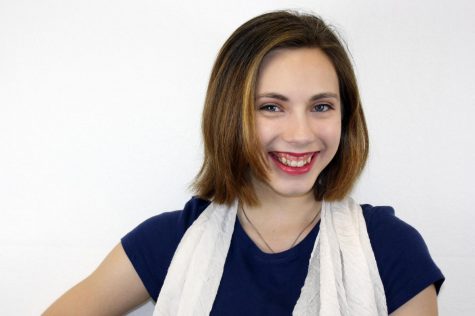 Erin Sheffield, Editor-in-Chief
Hullo! I'm a senior in my third year on staff and my second year as an editor-in-chief. You can catch most of my work in the news and blogs sections. When I'm not around the school with a camera and a press pass, I spend my time in choir, musical, various...