Color guard camp leads to July 1 preview of 'Uprising' show
While their classmates are celebrating summer vacation, a few band members started their marching season more than a month early, learning routines and preparing for the upcoming marching season.
The Soaring Pride color guard spent June 28-July 1 in camp and will offer a preview of their show, "Uprising," Friday, July 1 at 4 p.m. in the small gym at Canyon High School.
"This week has been fast and crazy," color guard instructor Michelle Sheffield said. "It's really intense because we have to get the entire show written quickly, and of course everything gets written and rewritten and rewritten, so it can be hard for the guard to remember which version is right. It's a lot, but it pushes them, and everyone is starting to figure stuff out."
"
People need to know that the guard has to be graceful and elegant in performance, but they work their tails off."
— Michelle Sheffield
Sheffield said this year's color guard is full of positive individuals with a lot of energy. While their work is difficult, she said she has no doubt of their work ethic.
"This color guard is half newbies, half veterans," Sheffield said. "We have eight of each, which can be kind of scary, but the newbies are working hard and keeping up the best they can, so I think it's going to be good."
During the upcoming marching season, the band has an opportunity to qualify for the state marching contest. Sheffield said this means the intensity is higher, and the work is not going to be easy.
"This is going to be hard," Sheffield said. "So far we have a little more than two-thirds of the show written, and this show is harder and more intense than anything we've done before. And again, we're half newbies so it will take a lot of work, but I think they want it."
Many in the audience may not realize how much time and effort goes into creating the color guard's seemingly effortless performance.
"One of the things we talk and laugh about a lot, especially since we have four boys this year, is that everyone thinks it's all cute and girly and it's not," Sheffield said. "People need to know that the guard has to be graceful and elegant in performance, but they work their tails off. I think that's an important thing to realize. They work extremely hard to make what they do look easy when it's not."
About the Contributor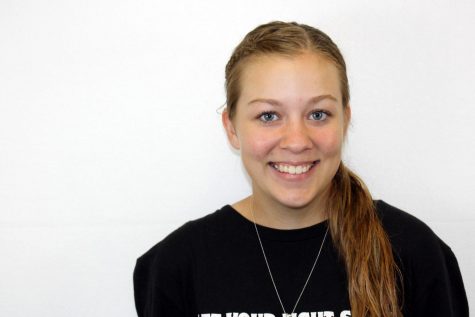 Aryauna Thompson, Staff Reporter
Hello! This is my third year as a staff reporter on The Eagle's Tale staff. I am incredibly excited to yet again work with such an incredible team of journalists. Outside of The Eagle's Tale, I am very active in the Soaring Pride Band, UIL Academics,...