Entrepeneurship students win $4,600
Entrepreneurship students traveled to the Cole Community Center March 3, where they collectively won $4,600 in the Ogallala Commons Youth Entrepreneurship Fair.
Eight students placed in two different categories of businesses, each winning a sum of money donated by various organizations. Jake Nelson placed first in the "Still in the Future" category with his business, "Death By Fudge."
"I was shocked when I found out I had won," Nelson said. "The judging process is very stressful. It's a lot like that show 'Shark Tank' since I have to go in front of the judges and present my business model to them. I have to show them my projected sales and things like that."
Nelson said his business would not be possible without some help from his family and his business teacher Marcie Cook.
"
I've seen a lot of growth in all of them as entrepreneurs and young adults.
— Marcie Cook
"I started the idea for my business by using my grandma's fudge recipe from 1912," Nelson said. "With that idea I began the idea of my business and worked on my plan with Mrs. Cook. She told me that I had a solid plan and idea and she helped me turn it into something."
Nelson said he owes his success primarily to Cook, his Principles of Business, Marketing and Finance teacher.
"I'm very proud of the student's success and accomplishments," Cook said. "I've seen a lot of growth in all of them as entrepreneurs and young adults. Their businesses have come a long way from where they started and I'm very glad to be able to watch that and help them with their work."
Cook said she is looking forward to what is next for her students.
"Now that this contest is over, the students will receive their checks and go to some of the organizations that donated their prizes to thank them and present their businesses," Cook said. "Some of the students will likely continue their businesses by using their prize money, while others will use the money to further their education in different ways. I'm looking forward to working with the students on new projects."
"Ready to Go" Category
1st- Mariah Thornton
2nd- Alicia Owen
3rd- Skyler Kutsukos
4th- Jared Gallegos
"Still in the Future" Category
1st- Jake Nelson
2nd- Nicole Steelman
3rd- Cody Cook
4th- Jake Waldo
Leave a Comment
About the Contributor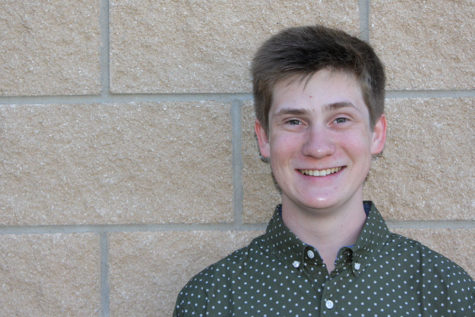 Braden Lefevre, Associate Editor
Hey there! I'm Braden Lefevre, and I am a senior at Canyon High. This is my third and final year to serve as a member of The Eagle's Tale Staff, and I am elated and honored to serve as an associate editor of this stellar publication. I am also the...