'Harry Potter' installment suffers curse
For those of us who waited for our acceptance letter into Hogwarts even when we were way past acceptance age, the release of a new "Harry Potter" sequel was nothing less than exciting. But in the opinion of other fans, including myself, the book simply didn't live up to the Harry Potter name, much like Albus in "Harry Potter and the Cursed Child."
The story, set 19 years after the Battle of Hogwarts, centers around Albus and Scorpius and their relationships to their fathers, Harry and Draco. Albus and Scorpius meet their first year on the Hogwarts Express, instantly becoming friends, despite their parentage. Albus is bullied, not only because he, like Scorpius, was placed in Slytherin, but also because he does not meet the expectations other students had for the son of "the boy who lived." Scorpius is also bullied, due to a rumor of him being the son of Voldemort. Albus begins to misdirect his anger deriving from his mistreatment at school towards his father. When Amos Diggory, father of the fallen Cedric, encounters Harry in secret, seeking a Time Turner to resurrect his son, he is turned down for logical reasons. Albus, overhearing this conversation, takes it upon himself to save Cedric with the help of Scorpius and Delphi, Amos's niece.
"
As a long time fan, this was not the way I wanted to get to know the children of J.K. Rowling's original characters.
— Jamie Abbott, 11
The development of relationship between father and son was the most interesting aspect of the book, but its other key components were so weak, the story was an overall disappointment. The piece was written as script and would have been more interesting as a fully developed novel. It is also worth noting that this tale was not solely written by J.K. Rowling, the original author. In fact, there were two collaborators, John Tiffany and Jack Thorne, involved. Because the story is not purely her work, her writing style was partially absent, while a strange new writing style was introduced, losing the factors which made "Harry Potter" special to many children. No spoilers, but the ending itself was very anti-climatic and it began to feel as if the authors rushed to get the story out and over with. Characterization was almost forced, as if the characters were taken at surface level value of Rowling's original story, but there was no development and some felt as one dimensional as could be.
This addition to the "Harry Potter" collection was most definitely my guilty pleasure, as I knew it was not reaching its full potential and was a disappointment, but I could not stop reading because they added the same drama factor that most soap operas have, except less intense. As a long time fan, this was not the way I wanted to get to know the children of J.K. Rowling's original characters. There was so much untapped potential in this concept. I would not recommend paying the $17 for this book. I am only thankful for the fact my copy was a borrowed one.
Leave a Comment
About the Contributor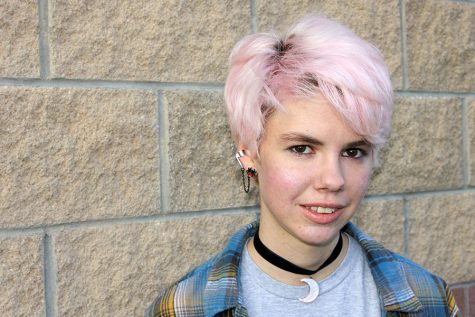 Jamie Abbott, Staff Reporter
Heyo! I am Jamie and this is my first year on staff. I am a junior, and I am very excited for this year. I enjoy reading, creative writing, watching Sailor Moon and listening to K-pop. I invest most of my time in cheesy science-fiction, which includes...