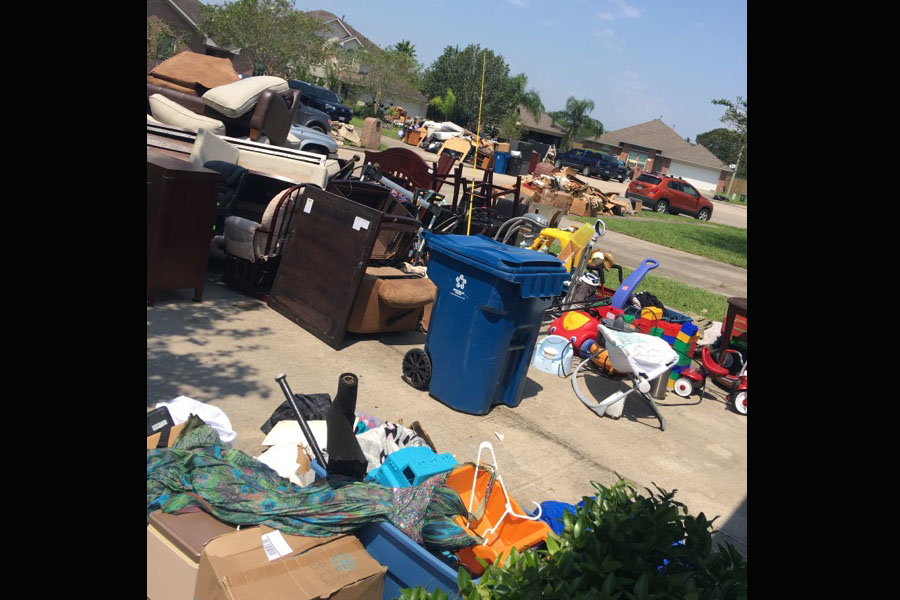 'Life is definitely going to be different now'
Canyon alumni putting lives back together after losing home in hurricane
A young woman walks through her flooded home. Her belongings swim in the water sloshing around her ankles. Her gaze wanders from one destroyed belonging to another until it settles on a small shoe. Her son's first. When she leaves her home, she is not just leaving her photographs, toys, heirlooms or clothing–she is leaving her memories.
Krislyn Wurtz Boswell, a 2010 Canyon High School graduate and former editor-in-chief of The Eagle's Tale, moved to Dickinson, Texas, after graduating from nursing school. She now works in labor and delivery for Clear Lake Regional Medical Center and is in graduate school working toward her nurse practitioner degree. Her home, along with all of her family's belongings, were destroyed after Hurricane Harvey hit.
"
You can hardly think when you know your family's not safe."
— Krislyn Boswell
"Life is definitely going to be different now," Boswell said. "We have to rebuild our house, and that will take until about Christmas. In the long run, next time they tell us there's going to be a hurricane, we will take it more seriously."
Boswell and her husband bought three cases of water, some non-perishable food and two battery operated flashlights before the storm came.
"We've had tropical storms before, and they haven't been anything, so we didn't want to overprepare," Boswell said. "We didn't think anything big would hit. We thought I'd camp out at the hospital for a day or so, and it would be good and we would come home. I really didn't think it would be what it was."
When the hurricane struck, Boswell was called to work as part of the hospital's Disaster Relief Team.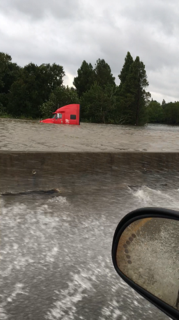 "At the hospital I'm at, really any hospital, they give you an A-team and a B-team," Boswell said. "The A-team is who comes in during the hurricane, and you stay throughout the course of the storm. Once they declare it free from the disaster, the A-team is allowed to come home once the B-team comes in."
Boswell said the B-team would take over for two to three days to allow the A-team to go home, rest, assess the damages and then return to their normal schedules.
"They called me Thursday and said, 'Pack your overnight bags, you'll probably stay at the hospital for a day,'" Boswell said. "They gave us the option to bring our families, and I told them my husband and my two kids would be there."
Although her husband and two sons went home, Boswell stayed at the hospital for six days. Boswell said she was torn between doing her job and missing her boys and husband, Jace, who is a 2009 graduate of Canyon High School.
"When my husband called me that morning and said the house was flooded, he didn't know what to do," Boswell said. "He had the two kids, and he said they were sitting on the bed trying to push the water out. Being stuck at the hospital and not sure if they got out–that was awful. I called them probably every 15 minutes. They kept saying, 'We're okay, just do your job.' You can hardly think when you know your family is not safe."
Almost all of Boswell and her family's belongings were destroyed, but her husband and children were rescued when they were picked up by a dump truck.
"My husband, sons and brother-in-law were all at my house when it hit," Boswell said. "My neighbor has a boat in his backyard, and my husband took the boat and started evacuating the neighbors. They were all coming together and trying to get out. A dump truck came and picked them up. It wasn't even their place. They were just driving through."
Boswell said her family lost everything, but other families lost more.
"We only had six inches at most in the house and 12 in the garage," Boswell said. "However, there were people at the front of the community and the front of the town that had six feet of water in their homes."
"
People we had never even met came in and helped clean up."
— Krislyn Boswell
Since her home was destroyed, Boswell has been living with her mother in Houston.
"Its hard when you're used to living on your own, doing things your own way and you have your own routine," Boswell said. "I've got my boys, and I'm so used to a routine with them. That is now totally broken up. To them, it's like a big vacation."
While driving through her community, Boswell said she saw trash piled up on the streets.
"To drive down and see trash, carpet and wall just thrown on the side of the road is incredibly devastating," Boswell said. "There's trash lined up on the streets, and we are just thinking, 'How is this going to get cleaned up?'"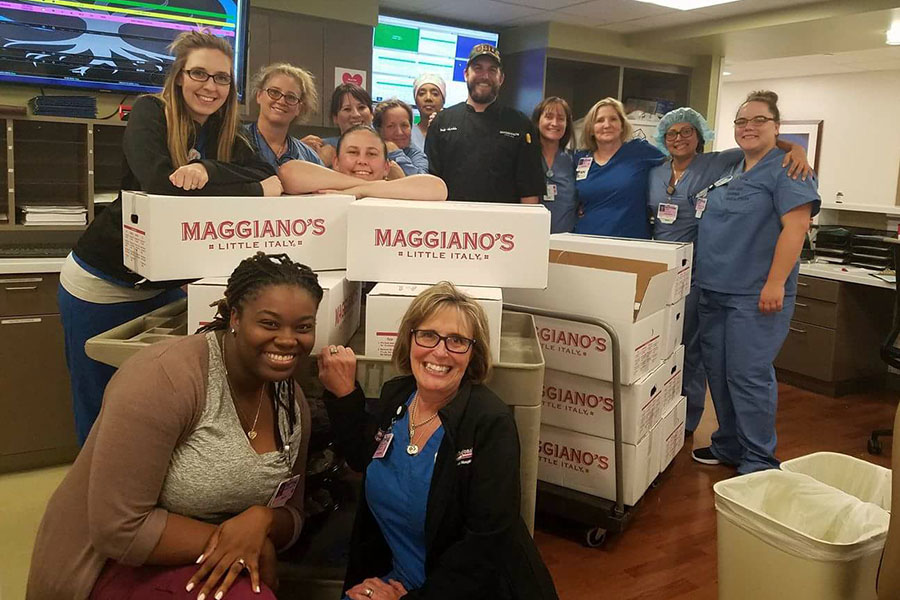 Boswell said everything at her house is gone.
"It's all piled up on the street," Boswell said. "Watching people drive through and take your stuff has been horrible. You drive up to your house, and there's people digging through your stuff."
Friends, family and strangers helped the Boswells after their home flooded.
"When we first walked into the house, the smell was atrocious, and slime was everywhere," Boswell said. "Our babysitter called their church. They came in and cleared out all of our furniture and helped us tear out the drywall. People we had never even met came in and helped clean up."
The Federal Emergency Management Agency has been helping families, but Boswell said she doesn't know what will happen when their assistance stops.
"We were calling hotel after hotel, and when they answered the phone, they would say, 'Sorry, we're all booked,' and they would hang up," Wurzt-Boswell said. "There's so many people that are going to be out of homes when this government help runs out. I'm not prepared for that. I'm not sure where we go from there."
As a nurse, Boswell said her training prepared her for the disaster.
"Doing what I do, you don't know what's going to walk through the door," Boswell said. "Doing that has helped me mentally cope with it. I'm a planner. I want to know the next step. I want everything to line up, and it's definitely been hard, because day-by-day and week-by-week is totally going to be changed."
Staying strong for her children helps Boswell face daily challenges.
"When they see us down and upset, they get upset," Boswell said. "When it happens, you just want to stop everything, but life has to keep going. We still have bills, work keeps going and my school is still in session."
Boswell said the community has come together through this tragedy.
"You see on the news there is so much hate," Boswell said. "It's not like that. You see so many people coming together to help. It's been a total devastation to so many people, and community members and people you've never met before want to help you.  It doesn't matter what race you are, how old you are or what kind of differences you have. You just see so many people coming together to help."