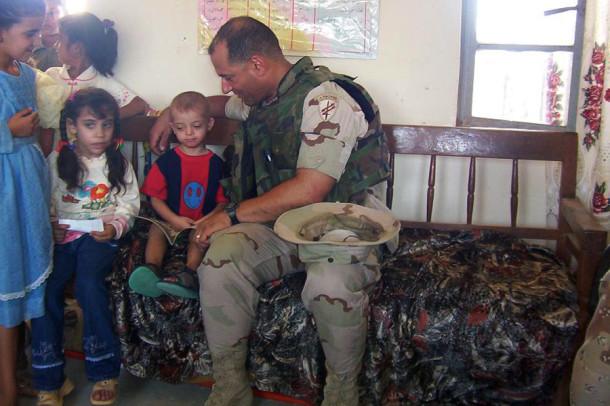 Band director finds harmony in music, military
Clarinet in one hand, his notice in the other. A heavy decision to make.
He grasps both tightly as he takes his next step in life.
Assistant band director Luis Hernandez served for 24 years in the Army Reserve and as a Veteran of Desert Storm and Iraqi Freedom.
"My dad was in the military for 35 years," Hernandez said. "It was more of a family tradition thing. My older brother graduated from West Point. I decided to go the 'reserve' route which, in the long run, didn't really work out that way. But it was a pretty good deal."
After completing military police training, Hernandez was put into Signal Corps.
"I had no idea what Signal Corps was about," Hernandez said. "I was still working on my music ed degree at Texas Tech, and Signal Corps was heavy on electronics. I was basically a fish out of water."
Hernandez stayed in Signal Corps for two years until switching over to civil affairs.
"I thought civil affairs would be good for me," Hernandez said. "They deal with a lot of interactions between the civil population and the military."
Hernandez said he worked alongside people who didn't fit the stereotype of a "typical army person."
"
I enjoyed the deployments even though they could be a little bit stressful."
— Luis Hernandez
"We would have staff sergeants that would run their own businesses,'" Hernandez said. "The unit was very rank-heavy, meaning there were a lot of colonels, lieutenant colonels, majors, upper enlisted. I really did enjoy the people. I enjoyed the deployments even though they could be a little bit stressful. The missions, the work itself was very satisfying."
Hernandez said his experience taught him the value of being grateful.
"Being able to see different parts of the world and how people lived then coming back to our country and the standards of living that we have made me grateful for what we have," Hernandez said. "When we were there for Iraqi freedom, southern and central Iraq, people were basically living open sewers in the small cities. There was no sewers whatsoever. It was out in the streets. There was literal crap everywhere."
Hernandez also said it made him appreciate his friends and family.
"Not being able to see your kids grow up, basically missing all the major things that they go through, is probably the hardest part," Hernandez said. "We had internet, limited, but internet and small satellite phones to talk to our families, but it still doesn't replace the fact that you're missing your family, missing your kids."