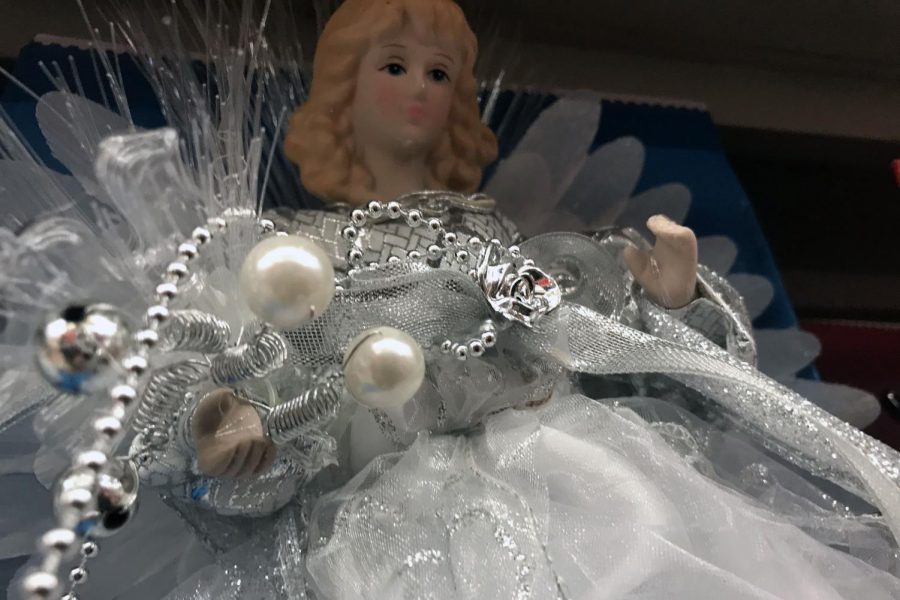 Maryssa Rodriguez
When I was younger, my family would participate in the Angel Tree program for my father's work at Tyson. We would be assigned someone to purchase gifts for and have them delivered in some form so the child could have presents on Christmas morning.
I clearly remember one Christmas season when we went out to buy our yearly Angel Tree presents. The very concept of gifting a stranger with toys was exciting for my sister and me, and we hurriedly went to different stores such as Target and Walmart with our mother to find the perfect presents. My younger sister and I were with my mother walking through what I believe to be Walmart. The store was slightly busy as the holiday season was upon us and nothing can appease the last minute shoppers like Walmart can.
Our cart was empty, and in my mother's hand was what I remember as a slip of paper. I do not know if this actually happened or not, as it was so long ago, but I think upon the paper was a list with what the young girl wanted for Christmas. I was wondering if she would ask for something large like the bike I wanted, or something small and expensive like a new phone. She asked for neither. Instead my mother told me all she asked for was two outfits and some sort of toy. I could not believe it. At the time it made absolutely no sense why someone so young, or anybody in their right mind really, would ever ask for clothes for Christmas. I would not realize until years later it was because she did not have the luxury of buying a new outfit whenever she wanted.
Later, it was a dark winter night but not as cold as it had been previously in the week. Despite the coloration of the sky, it was still fairly early in the day, so my parents decided to give us the opportunity to visit the family of the girl for whom we bought gifts. I cannot remember what I was doing on the drive there. All I can recall is the presents in my lap and the car's heater blasting. The house also escapes my memory, but I'm entirely certain it was small. That much was clear. We knocked and entered.
The lights, a faint orange in my memories, surrounded a man sitting in an old chair. He was hooked up to what appeared to be a tank of oxygen. His hair was grey, and near him sat a large brown dog who eagerly perked up to great us. The man thanked us for our kindness, told us how hard it was to get presents for the kids he seemed to care for dearly. I did not know why, but the more he spoke the more I felt ashamed. I was a child who may not have been spoiled rotten by my parents, but I still had the necessities easily accessible and within my reach. It was as if my whole world had been shifted. No longer was I a child who believed the world was handed on a silver platter to everyone living in it. For a split second, I was aware of how sometimes not everyone is treated equally, a mind-boggling concept for a girl who is always taught the importance of respect and sharing.
My realizations brought me to a question though. As we left, I could not help but wonder how the girl was feeling about the situation. It was an ordeal completely out of her control, but for the few minutes I saw her, she remained entirely silent. Perhaps it was shyness similar to my own at the time, and it may have simply been her reluctance to speak to the people invading her home with partially meaningless gifts. No matter what her reasoning was, I could not help but feel sympathetic towards her. In my eyes, the need to give was never a driving force during Christmas, even with all the movies displaying its importance. But as I recall this event, I want nothing more than to give that little girl a hug and tell her one day, she may be the one giving gifts to those who are not able to give their own.
As we shopped for the girl's gifts, it never occurred to me she may not be able to afford the garments we were buying so carelessly. While we were tossing money like it was in an endless supply, others were scrounging up what little change they had just to be able to pay for a traditional Christmas ham. The thought itself was a million miles away from my very being, unable to penetrate the thick childhood wonder I viewed the world in. It broke my heart to come upon the realization that not every person grows up with the same resources I had. Not every child can go up and ask their mother to buy them a new shirt because they dislike the old one's pattern.
It was such a horrible truth to learn at such a young age, but I'm glad I did. I wish I could say I think about the girl with the dark house as often as I should. I wish I did not have to remind myself such an event even took place. However, as I write this piece describing a Christmas long past, I cannot help but feel nostalgic and proud of my simple contributions. Perhaps I will never be able to truly understand what it is like to rely on strangers to make your Christmas a reality, but I have learned what it means to really give someone a present for the holiday. It is not about what is actually bought, but rather all the time, devotion, thought and effort put into choosing the perfect gift for someone we care about.