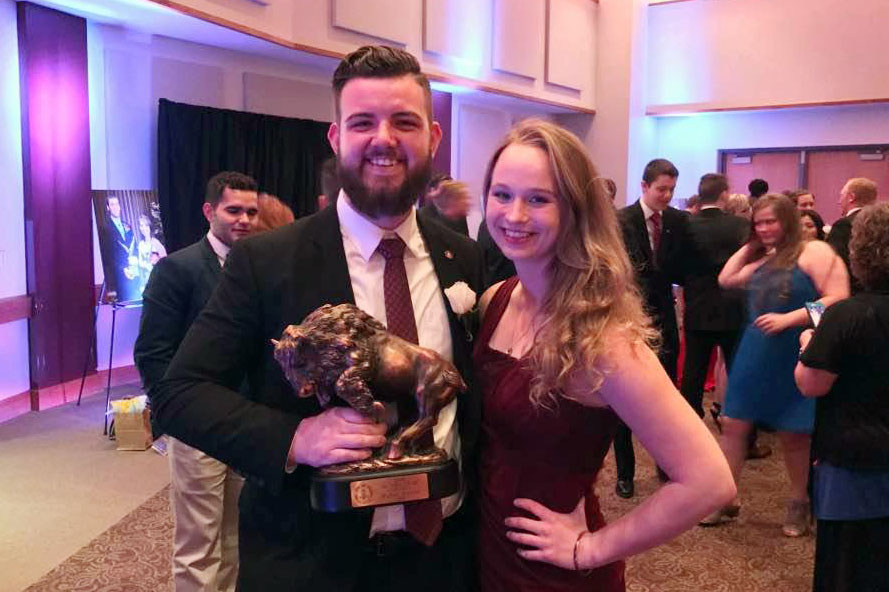 Courtesy of Myles Smith
A master's degree in communication studies from West Texas A&M University, WTAMU Wesley Foundation student leader, past president of the Maroon Platoon, 2015 WTAMU homecoming king, 2017 WTAMU Man of the Year–yet of all his accomplishments, only one may save a stranger's life. 
Myles Smith, a 2017 West Texas A&M University masters graduate, will donate bone marrow to a patient with leukemia early this summer through the "Be The Match" bone marrow registry. 
"I was in shock when I found out I was donating because it is such a rare chance," Smith said. "The chances of becoming a donor are about one in 400,000. And the chances of being a match are one in thousands. I was a 99.3 percent match with the patient, and usually, to find a match outside the patient's family is rare, if not almost impossible."
While the odds of becoming a donor are slim, they are life-changing. The "Be The Match" website features countless stories from patients and donors alike talking about the effects the program had on their lives.
"When I got the phone call telling me I would become a donor, it was a surreal moment," Smith said. "No one knew what just happened. I wanted to run around and tell everyone, but it's not a fun thing. It's a weird combination–I'm doing something awesome, but it's not going to be fun or easy."
Donating bone marrow is an indepth surgery which can only take place after following a multiple-step application and testing process.
"Back in February of 2015, I met a lady who told me about her son who died of leukemia at the age of 15," Smith said. "From there, she started talking about the 'Be The Match' program. She was really passionate about it because her son never found a match and passed away. She pulled the application right out of her bag and had me fill it out on the spot. She even pulled out all the stuff to do a DNA swab in my cheek."
After his application and swabs were submitted, Smith had to complete a follow up questionnaire and blood test. Because of the thorough process, it was not until April 2017 that he was confirmed to be a donor. After scheduling around a busy life including graduate school graduation followed by a mission trip to Kenya with the WTAMU Wesley Foundation, Smith awaits the surgery.
"If your put your hands on top of your hips, about where your thumb is, is your iliac crest," Smith said. "That's where they go inside your pelvis with a giant needle and suck out bone marrow. They say it's pretty painful, but I guess I'll know after more what it's like."
When performing the surgery, one teaspoon of bone marrow can be taken for every pound the donor weighs.
"I researched the process, and then I did the math," Smith said. "I'm a pretty big man, so for me, that is nine to ten cups of fluid from my pelvis. I kind of have this mental issue of not believing I have that much there but I'm sure they'll find it. It's not like in the movies where you see someone on the road and do CPR to save a life. I'm not pulling over and doing something heroic. I'm going into surgery and having some bone marrow taken to be donated. I'm nervous and don't know what to expect, but I'm excited and I like knowing I'm going to help."
Despite his fears going into the surgery, Smith said he is grateful for the opportunity to help the patient in any way he can.
"I find comfort in knowing as crazy as I think this is, I can only imagine how joyful the patient I'm donating to is going to be," Smith said. "I know my side, but I want to know the patient's experience–what she went through, how long it took before she found a match, and the role I played in her life. I know with all the stress I'm going through with finals, end of semester job searching, graduating, going to Africa–in the long run there is no comparison. That really eases the anxiety that as crazy as I think everything is in my life, having leukemia would be much worse."