Junior becomes first male cheerleader since 2007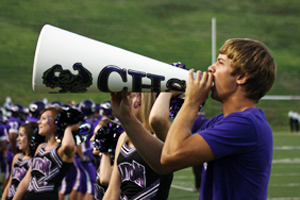 Hang on for a minute...we're trying to find some more stories you might like.
This year one cheerleader won't be wearing short skirts or waving pom poms.
Junior Hunter Kershen is the first male to join the squad since Gecovey Coffman, who graduated in 2007.
"I decided to do it because it was something different," Kershen said. "I've tried all the other sports, and this one seems to fit."
Although it isn't common for Canyon High to have a male cheerleader, students have expressed their support for Kershen being a member of the squad.
"I think it's a great hobby for anyone, male or female," junior Susan Yancsek said. "It shows your high school spirit."
Yancsek isn't alone. Rather than the ridicule some might expect a male cheerleader to receive, Kershen said he has experienced the opposite reaction.
"I was surprised at how many people actually respected me for it," Kershen said.
While Kershen said he plans to look into scholarships and possibly pursue cheerleading in college, he enjoys the perks of high school cheerleading now.
"My favorite thing about it is getting to be as loud as I want to and getting to go to all the games," Kershen said.
Kershen said being a cheerleader requires hours of training and practice. For Kershen this means weekly trips to an Amarillo training facility.
"I go to Cheer Texas for stunt and tumbling classes," Kershen said. "I'm learning how to do back handsprings and partner stunts."
In spite of the hard work, Kershen's face lights up with a huge smile when he talks about cheerleading.
"It's the funnest thing I've ever done," Kershen said. "The squad feels like a family to me. I can't wait to do it next year."