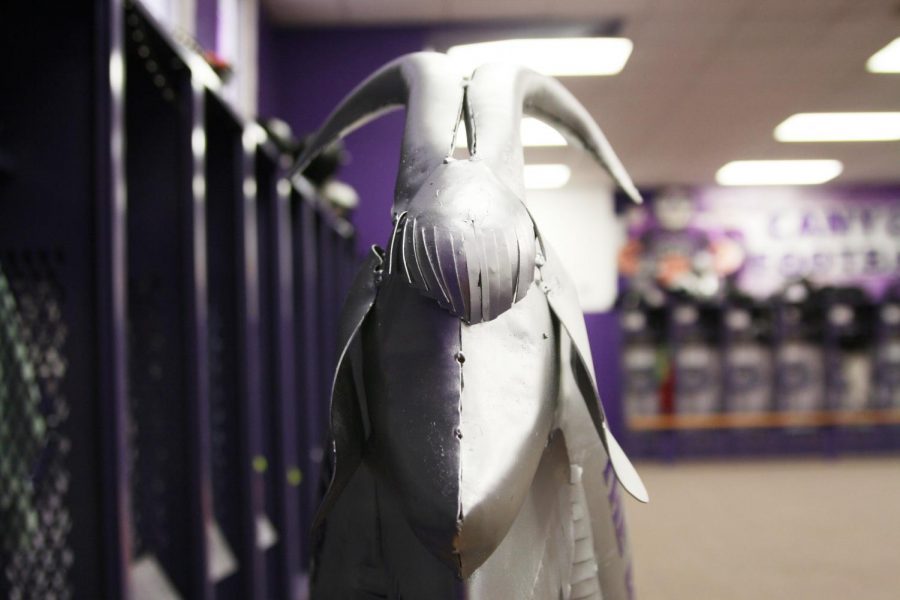 Faith Douglass
Canyon versus Randall. Friday night at 7 p.m. in Kimbrough Memorial Stadium, the two football teams will take the field once again with Canyon having home field advantage and seeking to take home the victory and a new piece of hardware.
For the Canyon versus Randall game, athletic director Toby Tucker has implemented a "goat trophy" as a reward for the winning team.
"I wanted something the athletes could remember for years to come," Tucker said. "'GOAT' today stands for 'Greatest Of All Time,' so I wanted something these kids could tell about how they were the greatest that year. The team that wins can take their fans to get it and celebrate, and they can have it for a year."
Canyon and Randall High Schools will host their own separate USA themed pep rallies Friday morning in anticipation of the game.
"Seeing that our first pep rally was so much fun, I am excited to see how this one will turn out, too, especially knowing we will be playing Randall," senior varsity cheerleader Emily Thurman said. "That's always a fun but tougher game. It always brings out a little more school spirit and lots of energy that usually carries over to the game."
Thurman, in her second year as a varsity cheerleader, has performed in pep rallies for four years.
"We've always had the USA themed pep rally close to Sept. 11, because we like to do a small tribute to our country around this time of year," Thurman said. "It's cool, because all the students are decked out in red, white and blue for our country."
Head coach Blake Bryant said he never has to give big speeches the week Canyon plays Randall, because the players are already excited.
"The community is awesome, because everybody gets involved," Bryant said. "I might say one or two things, but our kids are always so fired up."
The football team will run through the inflatable eagle as the fight song plays before kickoff.
"One of the most exciting parts is when we come down onto the field, and the crowd is huge," Bryant said. "You know your opponents. The kids know everybody. We know every coach by name. But, for 48 minutes right there, we want to get after them."
Senior Brett Cobb said playing Randall is all about the rivalry.
"I am overjoyed and super excited to play them," Cobb said. "We expect a lot this week. We want every play to be perfect."
Fans tend to fill Kimbrough for this game, and because it was rained out last year, fans can expect a large crowd.
"I love the anticipation for everyone involved," Tucker said. "There is a lot of pride on the line for both football teams. I know both teams are going to bring it, both bands are going to be into it, the cheerleaders are going to be excited and both student sections will be super excited. Both sides really want to win, but at the end of the day both sides respect each other."