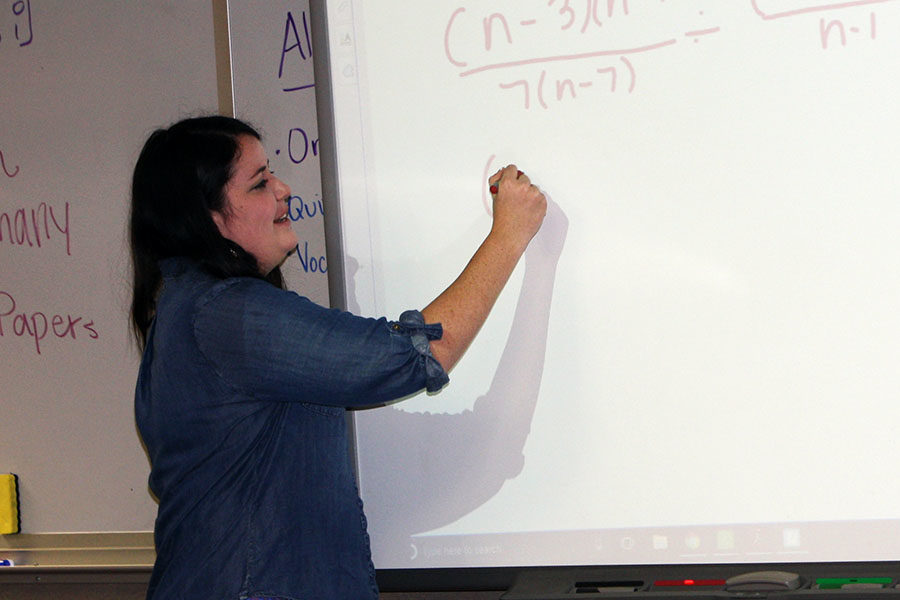 Maryssa Rodriguez
Looking around, she notices the desks littered around the room in small organized groups. Walking around her classroom, each step leads her closer to her goal. With a deep breath, she enters her new life and old home.
Former student Lindsay Shuman returned to Canyon High to teach Dual Credit Pre-Calculus Pre-AP and Algebra II.
"Coming back to Canyon was exactly what I wanted," Shuman said. "It was closer to my family. My niece and brother and sister-in-law are in Lubbock. This is always where I wanted to end up as a teacher."
Shuman teaches alongside several teachers who taught while she attended Canyon High.
"I have a lot of mentors and a lot of people who have been here helping me," Shuman said. "It's really cool to be able to get back to the same school that gave you everything, that made you successful in college."
Shuman said she believes the desire to pursue education as a career mostly comes from a teacher's care for their students rather than the subject they teach.
"In reality, most people don't teach because they love the subject they teach, but because they love the kids," Shuman said. "They love being around the atmosphere. They love helping people. They do it more for the students than they ever do for the subject they actually teach. That's exactly why I teach. I like math, but I love my students."
Shuman said she puts a lot of care into her students' futures and hopes to help them become the best they can be.
"I continue to show my kids I care about them personally, so maybe in turn they show the same thing and can be successful," Shuman said. "That's my goal. I want them to be successful in anything they do from here on out."
Shuman said having the heart and motivation is important when it comes to being a teacher. She also said having the esire to teach is something to take into consideration when thinking of education as a profession.
"Some people are meant to be teachers, and some are not, and that's okay," Shuman said. "If you feel like you have the heart for it, and you want to do that, then I feel like that's great."
Shuman said she has high hopes for her first year as a teacher at Canyon High and feels the year has already started out well.
"I am expecting great things from the year," Shuman said. "I'm really enjoying how it's starting out so far. I'm hoping to see a lot of growth from myself and my students throughout the year and to build connections with them."