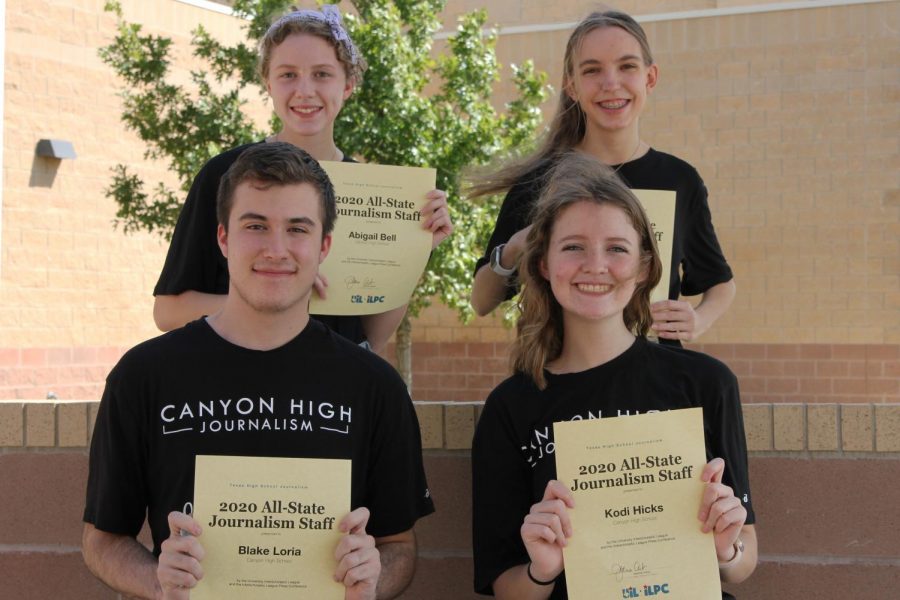 Kayce Nelson
University Scholastic League named seven students 2020 All-State Journalists, breaking a record of five at Canyon High. Announced in August, graduates Luke Bruce, Claire Meyer and Macy McClish, seniors Kodi Hicks and Blake Loria and juniors Hannah Backus and Abigail Bell were each awarded the title.
Throughout the year, the students wrote stories, designed yearbook spreads and competed in UIL competition. Loria—who is the editor-in-chief of the newspaper—competes in copy editing, news writing and editorial writing.
"It was nice to get the award because those points didn't go to waste when UIL was cancelled last school year," Loria said. "I was able to acquire points by not only competing and doing well in competitions, but I also won awards for stories and worked really hard to make sure I was pushing myself to be better."
Loria said the staff puts many hours into writing and editing for the newspaper to win awards, including the title of All-State.
"I hold the newspaper to a really high standard, and I'm really proud of that," Loria said. "We are a nationally-recognized newspaper, and as individual journalists we constantly win awards. We have quality content and quality writers on staff. Being able to say seven of us were named All-State Journalists really shows the dedication and talent of our rather small staff."
Loria said All-State Journalists earn their title and place with commitment, involvement and by striving for excellence.
"Whenever I joined news, I knew immediately I wanted to push myself and aim to be the best," Loria said. "I really think that's what being named All-State does; it gives you that recognition you deserve for working so hard. Always working toward advancing is my motivation, and I really want not only me, but the newspaper to be the best we can be and continue our legacy of quality writers."
Loria took Journalism I freshman year and was previously a staff reporter and associate editor. Loria said the experiences working up the ranks led to him winning the award.
"When I was a staff reporter, I was very nervous to interview, I second-guessed my stories and I was bad at editing," Loria said. "As I progressed and became the associate editor, it became easier to learn while also having the experience to teach others and lead in that intermediate level. Wining the award showcases that leadership and what I've worked toward."
Once a student earns enough points to be considered for All-State, their adviser must submit an application that is reviewed by UIL.
"I put in a lot of work to get there, and it was not an easy task," Hicks said. "I'm really glad I get to show it off. It's pretty difficult to reach the level of being an All-State Journalist because the requirements to get that many points is really hard to do, so it's a lot of constant work all year, and it's a lot of dedication and practice and late nights after school working in the newsroom."
Hicks competes in headline writing, feature writing and copy editing. As editor-in-chief of the Soaring Wings Yearbook, Hicks alsos enters photos, stories and yearbook spreads into competitions.
"I got involved in journalism my sophomore year at a UIL fair," Hicks said. "I really loved to write, and I wanted to compete in writing, so I joined J1 mid-semester and then I started learning how to write feature stories. While I was in J1, I went to contest and got first place in my first feature writing contest and ever since, I've just loved to write for the newspaper and the yearbook."
Loria said he plans on extending journalism into his career path.
"Every day, I come to the newsroom, and I either start writing or editing," Loria said. "All through high school, I wanted to be the editor-in-chief of the newspaper, and being named as an All-State Journalist affirms to me I should go into journalism as a career. I love writing, editing, telling people stories and informing people."