Gift of change
Student body benefits food bank with record donation
Hang on for a minute...we're trying to find some more stories you might like.
After multiple fundraising opportunities provided by the Student Council officers, students raised $5,231 for the High Plains Food Bank drive.  
The amount raised is Canyon High School's record high and possibly the highest amount raised out of the high school drive in the Panhandle. For every $1 donated to the food bank, $8 worth of food is provided to a family in the Panhandle. The $5,231 donation now becomes $41,848 to provide families in need with food for the holidays.  
"It's cool to know that we got to raise that money through Canyon High School STUCO," Student Council historian Parker Duggan said.
"
It shows we come together and support something that is greater than ourselves."
— Kaden McPherson, 12
The Student Council officers spearheaded the food bank drive.
"Personally, as a Christian, this is fulfilling my duty as a follower, serving others and serving the community," Student Council treasurer and senior Kaden McPherson said. "Also, it makes me extremely proud to be a member of Canyon and a member of the Student Council."
McPherson said he enjoyed seeing so many members of the school come together and make a difference.
"It shows we come together and support something greater than ourselves," McPherson said.
Duggan said it is nice knowing students helped those in the community who are hungry, because now they can go to the High Plains Food Bank.
"Knowing that we can provide food for these people feels good, especially around the holidays," Duggan said. 
The food bank in Amarillo provides food to 29 counties for between 9,000-10,000 households.
"
Knowing that we can provide food for these people feels good, especially around the holidays"
— Parker Duggan, 12
"In August, we saw huge spikes," executive director Zack Wilson said. "It was about 11,300 households in August alone."
Wilson said this money is very beneficial to these families this time of year.  
"To the 29 service counties we provide for, this amounts to about one in every seven people who struggle to put food on the table," Wilson said. "Collecting the food meets an immediate need, but the money allows us to access a lot more."
Wilson said the dollar doesn't go as far as it used to.
"A lot of people think the biggest thing we do is serve the homeless on the street corners, but usually that is less than 10 percent," Wilson said. "Everyone we serve, it's their families, individuals and especially seniors in the rural areas."

About the Writer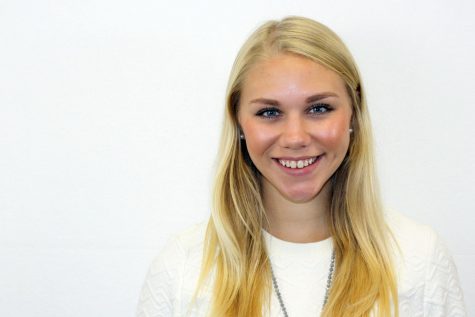 Faith Douglass, Sports Editor
Hey, I'm Faith Douglass! I am a senior this year, and this is my second year in newspaper. I play basketball and run cross country and track. I am in Student Council, Decide to Defy, Fellowship of Christian Athletes, LEAD, National Honor Society and Superteam, and I go to University Church of Christ. I love the sports journalism world! I want to become a sports broadcaster, and I'm doing my best to chase that dream this year. I can't wait for another year of newspaper and covering all the athletes and learning more about journalism.