Famed radio personality Blair Garner inducted into Hall of Fame
He rises and walks to the podium amid the cheers of a purple clad crowd. The gymnasium falls silent, and he begins his speech. He speaks with the crystal clear voice of a radio host about the beauty of the Canyon community. He speaks of friendship and family values. He speaks of small town origins and big city living. Most of all, the speaker makes a promise to a variety of students stating he or she will rise to greatness just as he did. The speaker is Blair Garner, a nationally recognized late-night radio personality and the newest inductee into the Canyon High Hall of Fame.
Garner, a 1982 graduate of Canyon High who was inducted into the National Radio Hall of Fame in 2013, was inducted into the Canyon High Hall of Fame Oct. 20 before the homecoming pep rally. Garner said he never would have anticipated receiving the honor of being inducted into the prestigious group of Canyon High graduates.
"
I owe a lot to this community. It gave me the solid background which opened up a world I couldn't have imagined.
— Blair Garner
"I owe a lot to this community," Garner said. "It gave me the solid background which opened up a world I couldn't have imagined. I think that every bit of success that I've been lucky enough to achieve and that the students here have been able to achieve is directly rooted in the foundation that is provided not only by Canyon High, but the community at large. Folks here understand what really matters. Friends and family are the core values here."
Garner said he can sum up the key to his successes in one simple phrase: "Work hard and be kind."
"That's my family's mantra," Garner said. "Supporting others feels better than tearing them down. Lifting up those around you will make you more popular than laughing at those who fall. Working hard with determined effort will always propel you across the finish line, and being kind will ensure that there are friends and family on the other side of that finish line who will be there to join in celebrating your victory."
While Garner stressed how grateful he was to receive this recognition, he also said he cares even more about reaching out to a particular kind of student in the audience.
"Whether the outside world knows it or not, you are the kid who is filled with self-doubt," Garner said. "You are the one who wants so desperately to fit in, and no matter how hard you try, you just can't. You're different, and sometimes it feels like nobody understands what you're going through. Well, I do. You see, you are just like me. I was that kid. I wasn't one of the rich kids. I wasn't one of the jocks. The thought of a cheerleader looking my way was nothing more than a fantasy. In fact, I was the kid that was liked by the teachers because I'd always do the right thing, while at the same time being an easy target others tore down to build themselves up."
Garner said he admires and has faith in the young adult he described.
"A lot has changed since I was a kid, and I can't imagine what those added pressures must be like," Garner said.  "My kids are in that world, and man, is it tough. But even so, there's one thing that hasn't changed: who will win in the long run. Time will prove that you, my friends, will be the winners. The chosen of today rarely shine as brightly as will those who now, only lurk in the shadows. Your time is coming. It's going to be okay. It's going to be more than okay."
Leave a Comment
About the Contributor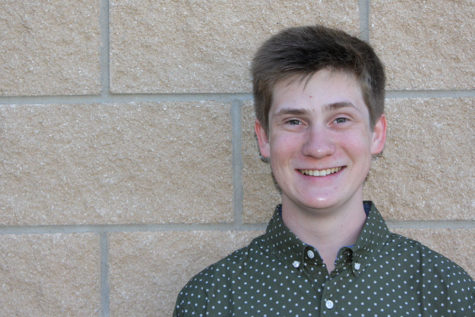 Braden Lefevre, Associate Editor
Hey there! I'm Braden Lefevre, and I am a senior at Canyon High. This is my third and final year to serve as a member of The Eagle's Tale Staff, and I am elated and honored to serve as an associate editor of this stellar publication. I am also the...