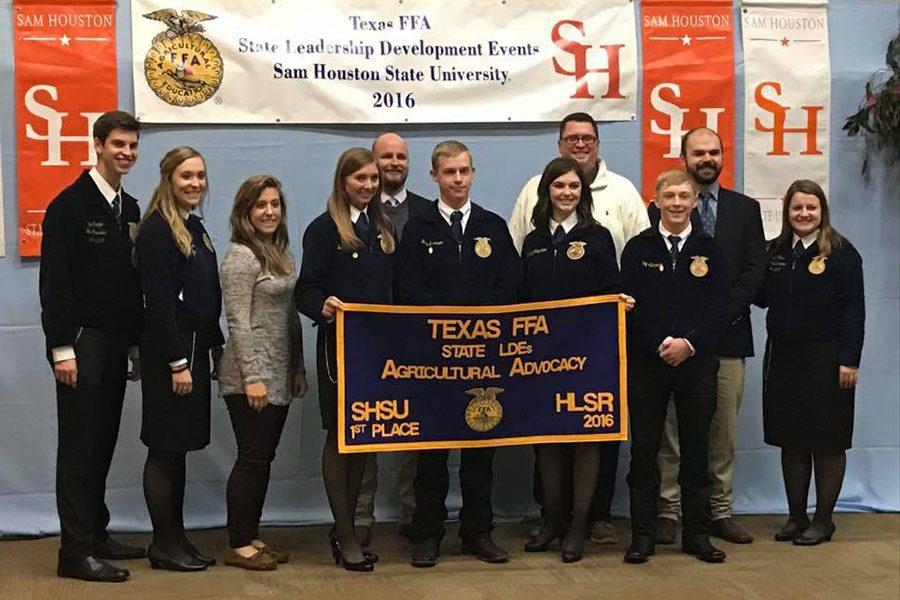 Courtesy of FFA
Eight minutes. The clock ticks down as the team members perfectly recite their scripts. A judging panel carefully analyzes their every action and critiques their every word. Five team members pass the conversation off to each other and try not to let their nervousness get the best of them. But this is not the end. Five minutes. After their scripted performance, they have an extra period of answering the panel's questions. In total, this team has 13 minutes to prove that they are the best.
The FFA Agriculture Advocacy team won their state competition after a very successful journey getting there. The team members said they gained experience and unforgettable memories along the way.
"The subject of our script was our parents and agriculture," Garrison said. "It's not really hard. I mean, if you do the math it's all under two minutes per person."
The Agriculture Advocacy team worked the entire semester for their opportunity to compete at state, but increased their work two months before the contest.
"It was a long process in getting there," Owen said. "We had to work hard for it, so whenever the hard work had finally paid off, we were all relieved and excited and just grateful we had the opportunity to do so."
The team scripted their own performance and practiced every day. Their workload only increased the closer they got to the contest. Each competition was fixed with its own unique challenges, and nationals seemed to incite the most jitters.
"I was very nervous, honestly, because you're performing not only in front of a judge panel, but also other people are there to watch," Garrison said.
Garrison said there were upwards of 30 other people observing them as they presented. While the pressure was high, the team said their victory was only made sweeter because of it.
"It was really bittersweet," Owen said. "I was sad it was my last contest, but I was glad I could end it on such a great note. I knew without those contests, I probably wouldn't be the speaker I am today. It's just given me a lot of opportunities."
Owen and Garrison agreed that their experiences with their team was one that they would not trade for anything.
"FFA is a great organization, and it can provide someone with numerous skills they can take throughout their life," Owen said.
Both Owen and Garrison said their time in FFA introduced them to new people, experiences and a new found confidence.
"I think everyone definitely needs to at least take an ag class or try FFA just to get a new perspective on things," Garrison said.
Even though the competition ended, these FFA members continue to constantly advocate for agriculture.