Valentine's Day offers sweet time to celebrate family, friends
Hang on for a minute...we're trying to find some more stories you might like.
Hearts have taken over the town, hanging in windows or stick to doors wherever you go. Shops fully embrace the spirit of the holiday of love (along with the overuse of red and pink). Couples walk hand-in-hand down the street, thoroughly enjoying their Valentine's Day. Hand holding, hugs, kisses. Love is in the air.
So whatever you do, do not breathe.
This is the worst day of the year for single people like myself.
"
Love is in the air. So, whatever you do, do not breathe."
— Macy McClish, 10
The colors red and pink become borderline repulsive, flowers are depressing, hearts mock us everywhere we go and chocolate … it stays the tempting indulgence it is. We just enjoy it the day after at 75 percent off.
Upon hearing the words Valentine's Day, the most common association is romantic love. It has been made into a holiday solely for couples by commercialization and society. It no longer seems appropriate to celebrate if not in a relationship. For those of us who find themselves independent on the 14th day of February, we have the sudden instinct to stay home, avoid any kind of human contact and drown our sorrows in sweets. All while growing in our distaste for couples yet wishing we were part of one ourselves.
But I like to believe that Valentine's Day doesn't have to be solely for those in romantic relationships. It can be to show love for friends and family as well. The people who impact your life deserve to be told they are loved, whether they are your significant other, your family or just your friends.
Friends are the people who continually change your life. Whether it is the same person or multiple people, they make you who you are. They are the ones who remind you it is not the end of the world when life isn't quite right. They make you laugh and are there with a shoulder when you cry. Friends star in your favorite memories, the ones you'll share with your kids someday. They are people you will never forget.
"
I know that in my life, I would not be where I am today if it wasn't for my loving family and my beyond supportive friends."
— Macy McClish, 10
Family is even more important than friends. They are the people who have to love you no matter how much you annoy them or how much they annoy you. Families are hard to deal with sometimes, but they stick by your side. Show your love for your family by having a simple dinner or watching a movie. It doesn't take much to let them know you love them.
At the very least, you should tell your mother 'I love you.' She is the one who gave you life for goodness' sake. To show just a little bit of appreciation would not be the worst thing in the world.  
Showing your friends and family you love them is just as important as showing your love for your significant other. Besides, it gives us single pringles something to do besides wearing black clothing and a scowl, hating everything in sight.
I know that in my life, I would not be where I am today if it wasn't for my loving family and my beyond supportive friends. They have guided and molded me into the person I am today. I owe them all so much. This Valentine's Day, I have chosen to show my family and friends I love them by making cookies for each and every one of them.
So, instead of wallowing in self pity this Single's Awareness Day, do something for those who love you. You might be single, but you are not alone.

About the Contributor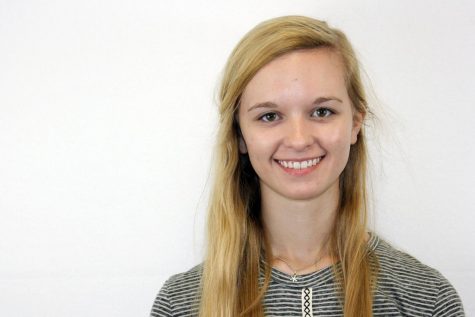 Macy McClish, Associate Editor
Hey guys, I'm Macy McClish and I'm a junior. This is my second year on staff, and I'm so excited to serve as one of the three associate editors. I'm the...